Description
All centers around Walther von Grünschild, a rich merchant and patron of the arts from Berlin, whose art collection was stolen. Now he sends his four nephews into the world to regain his paintings. The most successful of them becomes his heir. The game starts in 1918 and ends when von Grünschild dies. One round equals one day. The length of a round can be chosen between five seconds and infinite.
In auctions the missing pictures are sold from time to time. But to buy them the player obviously needs money. This is gained by opening up to 24 plantations in the Third World. There the player either grows coffee, cacao, tea or tobacco. After the harvesting the goods get shipped to warehouses in New York or London where the player sells it to interested companies. The player has to be on-site for every action which means an important part of the game is to plan ahead where he has to go during the next days. Another way to win money is gambling at horse races.
Besides his business the player can visit art schools to gain the ability to distinguish real paintings from fake ones. This is useful during the auctions because it is annoying to buy a forgery. Another way is to hire a middleman to attend anonymous to the auctions. This way the other players don't know he tries to buy a certain painting and it gets cheaper. Of course the middleman can't profit from the player's expertise and is more likely to buy a forgery. In Chicago the player can hire robbers to steal paintings from his competitors.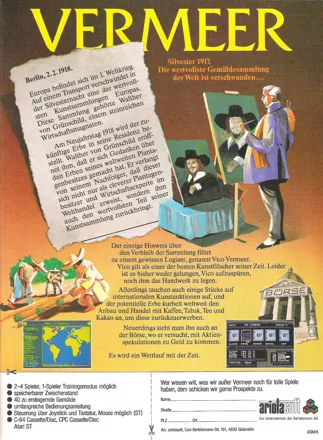 Credits (Commodore 64 version)
Critics
Average score: 56% (based on 4 ratings)
Players
Average score: 1.9 out of 5 (based on 4 ratings with 0 reviews)
Be the first to review this game!
Contribute
Are you familiar with this game? Help document and preserve this entry in video game history!
Contributors to this Entry
Game added by Gona.eu.
Game added August 28th, 2009. Last modified October 25th, 2023.