Sacred 2: Ice & Blood
aka: Sacred 2: Władca Smoków
Moby ID: 42254
Base Game
Description
Sacred 2: Ice & Blood is an official add-on to Sacred 2: Fallen Angel and fully integrates itself into the main game, bringing with it additions and changes that affect the whole game.
One of the main additions is the Dragon Mage as a new character. The Dragon Mage fully focuses on magic and tries to keep his enemies at a distance. He has access to Elemental Magic which summons creatures to fight for him, he can cast powerful area-of-effect spells and uses Dragon Magic. Besides calling upon dragons to help him in battle, Dragon Magic even allows him to transform himself into a dragon. While in dragon form, the Dragon Mage can't use any of his other abilities nor do any of his items influence his stats. In return, he becomes a powerful melee fighter with completely new talents, including the ability to cast a fireball.
The other big addition are the opening of the Crystal Region and the Cursed Forest. The Crystal Region is an artificial hunting ground for the Seraphim that has been opened for every other hero for the first time. Besides other creatures mutated by T-Energy, the ultimate challenge here is the Crystal Phoenix that has yet to be slain. The Cursed Forest, on the other hand, seems alive but nothing in it is really making it an unwelcoming place for only the best heroes.
Other important additions include:
Master Hand mode - upon character creation the player decides if he wants to focus on a single aspect and have better regeneration there (with a penalty to the others) or play the traditional way with all aspects having equal base regeneration.
Magic projectiles - each character class with the magic wand talent can now fire magic projectiles with their staff.
Unlimited teleport - the player can now open up the map any time and teleport to any already uncovered portal as well as to the current active location of his soul-stone.
New camera mode - the camera can now be moved around freely instead of using the pre-defined modes.
Carrier imp from the Collector's Edition now available in all game modes
Ability to export a Closed Net character for use in LAN and offline games
Fifth weapon and talent slots available upon reaching level 20
New customization options for characters' appearances
New items and armor sets
Rebalanced and edited combat arts and buffs
Spellings
Sacred 2: Лёд и кровь - Russian spelling
セイクリッド2 アイス & ブラッド - Japanese spelling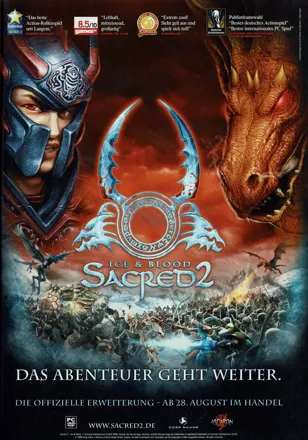 Credits (Windows version)
140 People (101 developers, 39 thanks) · View all
Critics
Average score: 75% (based on 6 ratings)
Players
Average score: 2.4 out of 5 (based on 3 ratings with 0 reviews)
Be the first to review this game!
Contribute
Are you familiar with this game? Help document and preserve this entry in video game history!
Contributors to this Entry
Game added by Sicarius.
Additional contributors: Karsa Orlong, Plok, Zhuzha.
Game added September 5th, 2009. Last modified November 10th, 2023.