Indiana Jones and the Fate of Atlantis: The Action Game
aka: Indiana Jones in the Fate of Atlantis
Moby ID: 4289
Being an action title, the game starts off where Indy is about to have an excuse to use his trusty whip: in Monte Carlo, after he recruited headstrong former student Sophie to his aid and determined the location of ancient discs needed to open the door to the lost city of Atlantis. Most action takes place in isometric view, although there are some variations along the way to keep up interest. There are even some adventure-game elements, such as Indy's inventory which you can fill with various objects to use (i.e. money to buy things). They are mostly easy though, and are there only to relieve the tension from knuckle-blistering action.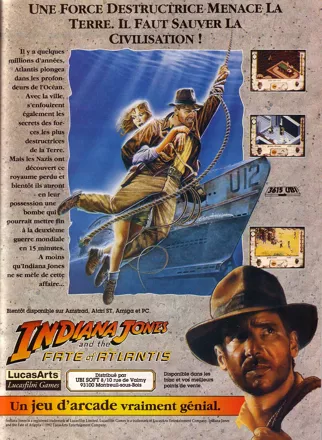 Credits (DOS version)
8 People (7 developers, 1 thanks)
| | |
| --- | --- |
| Story | |
| Coding & Design | |
| Graphics & Design | |
| Original Music & Effects | |
| Production & Design | |
| Cartoon Sequence | |
| Special Thanks To | |
| Closing Producer | |
Critics
Average score: 72% (based on 17 ratings)
Players
Average score: 2.7 out of 5 (based on 28 ratings with 0 reviews)
Be the first to review this game!
Trivia
C64 version music
The C64 version was released with bugged music - after about 90 seconds some distortion and incorrect notes start being heard.C64 music expert Warren Pilkington investigated years later, and found that SID channel three was corrupted, due to a mastering glitch causing data to be overwritten. Fortunately the Amstrad CPC version used identical music and did not suffer from this issue, so Warren was able to locate the section of working music data in the C64 version, locate this in the Amstrad code, and copy the following pieces of code across to get the music to finally play as had been intended 25 years earlier. As a side note, musician Martin Walker was contacted with the results, and revealed that he was unaware that his music was also used in the Amstrad version (and was not paid for this), seemingly by reverse-engineering his notes and linking them to the CPC's sound hardware
Version differences
In the Amiga, Atari ST, and DOS version, there is a small change during the intro sequence: A swastika on Kerner's armlet, only seen in half, was replaced with a innocuous symbol.
Contribute
Are you familiar with this game? Help document and preserve this entry in video game history!