The Cycles: International Grand Prix Racing
aka: Grand Prix Circuit: Cycles
As the name suggests, The Cycles simulates International Grand Prix Racing, allowing a player to compete against 9 computer rivals. Choose from three classes of bike (125, 250 and 500cc), and between 8 (Japan, Australia, USA, Spain, Italy, France,England and Sweden) and 15 (Japan, Australia, USA, Spain, Italy, Western Germany, Austria, Yugoslavia, Holland, Belgium, France, England, Sweden, Czechoslovakia and Brazil) original tracks depending on the version, at five difficulty levels (with the lower ones offering automatic gear changes).
The player can enter single races (always including qualifying) or complete in a full season. The action is viewed from the handlebars of your bike, a novelty for motorcycle racing at the time. The game engine is similar to that used by Grand Prix Circuit, but now incorporates hills.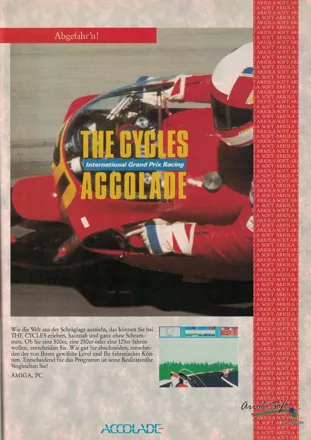 Credits (Amiga version)
9 People
| | |
| --- | --- |
| Created by | Distinctive Software Inc. - Vancouver B.C. |
| Design | |
| Art | |
| Programming | |
| Sound | |
| Music | |
Critics
Average score: 70% (based on 15 ratings)
Players
Average score: 3.1 out of 5 (based on 33 ratings with 3 reviews)
A clean but unbalanced racing sim.

The Good
It's hard to get bored playing the game, since there are many different tracks to choose from located in many different countries. You also have a choice in the class of cycle you race: 120cc, 250cc, and 500cc.
The interface is very clean--you don't need to read the manual at all; it's very easy to just fire up the game and go. Joystick calibration and support is similarly clean.
Realism is good, with only one exception listed in the 'Bad' section below. Locale scenery changes with each country, there are bridges to go under at track crossovers, and you can even pop a wheelie if you floor it at the starting line.

The Bad
For some reason, there is a lack of a sense of speed. I'm not sure if it's the sparsity of the scenery or something, but you just don't get the feeling that you're really going 120kph in the heat of the race.
The game is very unforgiving when it comes to collisions with other opponents. If you're playing on any level other than the easiest setting, you usually crash your bike, ending the race. I'm sure this is how it is in real life <tt>:-)</tt> but it would've been nice to include an option to relax the behavior a bit.
While the game supports Tandy and Adlib sound boards, they're only utilized in (good) music sequences. All sound effects are still through the PC speaker. Also, joystick support is 'digital', which means that you can either turn hard left or hard right only. Analog support is crucial in any good racing simulation to prevent oversteering, and it's missing here.

The Bottom Line
An okay game if a sense of speed isn't important to you. Because of the varing feature set and little annoyances, this sim falls somewhere between arcade and simulation racing.
DOS · by Trixter (8947) · 1999
Time changes a lot of things but not this game.. Still a great game.

The Good
After I first came across Mobygames, I was looking through all the games on the site I have played before. So this game was the first one I played after copying it back form my oldgames-backup CD. I like it a lot, thinking back 10 years back since I first played it. How things have changed.

The Bad
The ingame sound. After I played this again after 9 years . I had to remove my pc-speaker.
I didn't like having to qualify before racing in each race.

The Bottom Line
Simple racing of motorcycles. Like the different type of cycles 125, 250, 500.
DOS · by MajorDad (522) · 1999
An accessible motorbike game with a novel camera view

The Good
There was nothing like it. To the best of my knowledge, this was the first motorbike-racing game with a first person perspective. Makes the game so much more immersive. What was the next bike game with this camera view? Can't think of anything else but Moto Racer. Also the graphics are well done. I especially liked watching the hands change gears & work the brakes. The plain green grass that grows next to every track (always the same color) is somewhat boring.
15 different circuits, all with different backgrounds, including the Circuit of Drenthe (home of the Dutch TT). That's seven circuits more than the bunch that came with Grand Prix Circuit. Even better, the tracks are not completely flat anymore. Five levels of difficulty (level 1 & 2: automatic transmission, level 3, 4 & 5: manual transmission). Three different bike classes: 125cc, 250cc & 500cc. In other words: there's a lot to do (certainly when you consider the year of release).
Good interface with a minimum of buttons. Very simple controls: just gear up & gear down and the four directional keys. The handling of the bikes is somewhat realistic. It lies somewhere between arcade and simulation (although it leans more towards the arcade side). On the one hand you can blow up your engine and you don't have an infinite amount of traction, on the other hand you really need to push your bike to the max (enter a corner at top speed) before you start sliding, you can't turn your bike & race in the opposite direction and you can continue racing at a speed of 6 Mph with an angle of let's say 20 degrees between bike and asphalt. Don't try that with a real bike. The game is accessible enough for a large group of people while it still has enough depth to avoid total boredom. Anyway, you don't need to practice for weeks before you're competitive and I liked the racing itself.
At every race at least one or two A.I. riders crash or fall from their bike (I never like it when computer opponents keep doing perfect lap after perfect lap).

The Bad
Here's the stuff I didn't like:
No sense of speed. Like Trixter says, it maybe because of the lack of scenery. But even the white interrupted line in the middle of the road (btw, has anyone ever seen such a thing at a real circuit track?) disappears underneath you at a snail's pace.
Except for the differences in top speed, racing in the 125cc, 250cc and 500cc categories feels very similair. When you have three categories, isn't that a nice possibility for a career mode? Start in the 125cc and when you race good enough you eventually get a contract in the 500cc division (that is often how it goes in real life)
Superbikes equipped with brake lights and rearviewmirrors?
Engine sounds produced by the PC-Speaker.... make it stop... please! (if you didn't know already, you can disable the sound by pressing Ctrl + S).
All bikes look the same. When you look at a screenshot you can't tell which bike I'm riding. You can choose a black & yellow bike at the selection screen, but it's not reflected during racing. It's even more disappointing that all your opponents look the same. They've got no character. In fact as far as the opponents and their A.I. are concerned: most of the times they appear to be completely unaware of your existence.
Last weekend the Dutch TT was held in Assen. Since the 500cc category has merged with Superbikes to form the MotoGP class, 1000cc monsters now take part in the event. On his Ducati Loris Capirossi set a new lap record of around 1.58. In this game I can clock a 1.58 lap on a 250cc bike. Are the circuits too small or the bikes to big & fast? I tend to think there's something wrong with some of the corners. Some chicanes for example hardly require you to deviate from a straight line. You can keep on racing at full speed.
When you save a tournament, only the points table and the bike class are stored. The level of difficulty and the number of laps per race are not (before you restore a game you have to select these options manually in the main menu).
Perhaps a bit too easy. I didn't have any trouble winning the tournament at the highest difficulty level. Knowing before a race you're gonna win it, just like you've won the last couple of races isn't a very intrigueing prospect.
**The Bottom Line**
Early racing game that introduced the first-person perspective in bike games. The gameplay is enjoyable enough to keep you interested for a while. A good improvement over
Grand Prix Circuit
. I realize that not all my criticism is fair as one shouldn't judge yesterday's games by today's expections (career mode, customization).
DOS · by Roedie (5221) · 2003
Trivia
Music
There are drums in the Tandy music, but not in the Adlib music. Odd, considering that the Adlib is a much more capable card, and could have easily accommodated percussion in the title music.
References
A.I. riders like Brad Gourdo, Don Matrini and Kirk Patrick were named after some of the developers.
Information also contributed by Roedie.
Contribute
Know about this game? Add your expertise to help preserve this entry in video game history!