The Cycles: International Grand Prix Racing
aka: Grand Prix Circuit: Cycles
As the name suggests, The Cycles simulates International Grand Prix Racing, allowing a player to compete against 9 computer rivals. Choose from three classes of bike (125, 250 and 500cc), and between 8 (Japan, Australia, USA, Spain, Italy, France,England and Sweden) and 15 (Japan, Australia, USA, Spain, Italy, Western Germany, Austria, Yugoslavia, Holland, Belgium, France, England, Sweden, Czechoslovakia and Brazil) original tracks depending on the version, at five difficulty levels (with the lower ones offering automatic gear changes).
The player can enter single races (always including qualifying) or complete in a full season. The action is viewed from the handlebars of your bike, a novelty for motorcycle racing at the time. The game engine is similar to that used by Grand Prix Circuit, but now incorporates hills.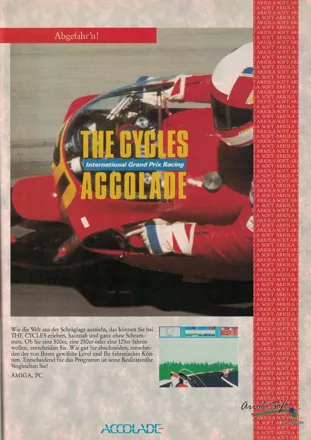 Credits (Amiga version)
9 People
| | |
| --- | --- |
| Created by | Distinctive Software Inc. - Vancouver B.C. |
| Design | |
| Art | |
| Programming | |
| Sound | |
| Music | |
Trivia
Music
There are drums in the Tandy music, but not in the Adlib music. Odd, considering that the Adlib is a much more capable card, and could have easily accommodated percussion in the title music.
References
A.I. riders like Brad Gourdo, Don Matrini and Kirk Patrick were named after some of the developers.
Information also contributed by Roedie.
Contribute
Know about this game? Add your expertise to help preserve this entry in video game history!