Final Fantasy Adventure
aka: FFA, Mystic Quest, Seiken Densetsu
Set after the event of Secret of Mana, you play a young man who escapes from his captors, only to find a huge world ahead of him. You must roam the land, solving puzzles and defeating enemies to find the young mans destiny in society.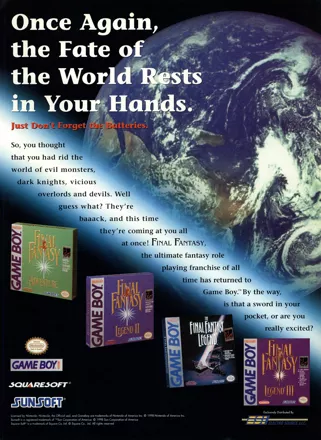 Credits (Game Boy version)
12 People
| | |
| --- | --- |
| Main Program | |
| Program | |
| Music Composer | |
| Graphics | |
| Graphic Assist | |
| Scenario | |
| Map Design | |
| Director | |
| English translation | |
| French translation | |
| German translation | |
Trivia
Development
According to the magazine Retro Gamer, the game is loosely based on the cancelled Seiken Densetsu: the Emergence of Excalibur for the Famicom Disk System.
Remake
Seiken Densetsu was remade as Sword of Mana for Game Boy Advance.
Title
Final Fantasy Adventure is not a main entry in the Final Fantasy series. In reality, it is the first game in the Seiken Densetsu (Holy Sword Legend) series.
Awards
Retro Gamer

October 2004 (Issue #9) – #8 Best Game Boy Game
Information also contributed by Joshua J. Slone
Related Sites +
FF-Fan
A fansite that offers all kinds of information on the entire Final Fantasy franchise, including walkthroughs, game media, discussion boards and fan art.
OC ReMix Game Profile
Fan remixes of music from <em>Final Fantasy Adventure</em>.
Contribute
Know about this game? Add your expertise to help preserve this entry in video game history!