Final Fantasy Adventure
aka: FFA, Mystic Quest, Seiken Densetsu
Set after the event of Secret of Mana, you play a young man who escapes from his captors, only to find a huge world ahead of him. You must roam the land, solving puzzles and defeating enemies to find the young mans destiny in society.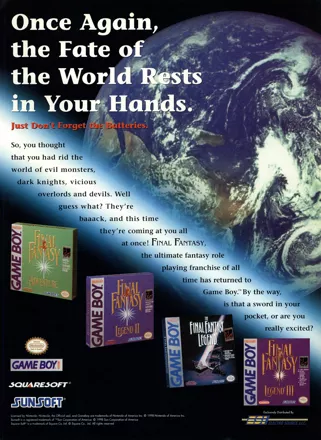 Credits (Game Boy version)
12 People
| | |
| --- | --- |
| Main Program | |
| Program | |
| Music Composer | |
| Graphics | |
| Graphic Assist | |
| Scenario | |
| Map Design | |
| Director | |
| English translation | |
| French translation | |
| German translation | |
Critics
Average score: 84% (based on 20 ratings)
Players
Average score: 3.8 out of 5 (based on 41 ratings with 3 reviews)
A Legend On GameBoy In Which We Will Never Forget...

The Good
This game was one that hit me like bullet from point blank range! It was just amazing! The storyline was so detailed compared to many other RPG games for Gameboy. With many diffrent kinds of weapons and magic spells to choose from. Even the graphics were great for Gameboy at the time.

The Bad
There is nothing about this game that I dislike, it was perfect in my opinion, one which I urge you all to play!

The Bottom Line
Final Fantasy Adventure is an amazing role playing game that takes place in medieval time with monsters and magic spells. You are the only one that can once again bring peace to the land
Game Boy · by XeNo (34) · 2003
A great Game Boy adventure and a great start of the Mana Series

The Good
Final Fantasy Adventure (commonly abbreviated FFA) is a spin-off of the Final Fantasy series, and in fact started the "of Mana" series (aka Seiken Densetsu series). Unlike actual Final Fantasy games, this is no RPG but an action-RPG, meaning you directly fight monsters instead of fighting them trough commands. This game shares the story, locations and characters with Sword of Mana, although both games are completely different (think of it like many Castlevania games share the same story and protagonist, Simon Belmont, but completely different levels).
You play as a boy that has been enslaved and is forced to fight monsters for a long while, as you can successfully escape the place you were hold in and you must go on a journey to save the mana tree. I didn't understand a lot of the story, mainly because the translation is absolutely terrible (some sentences barely make sense), however there is a lot of developed non playable characters and a few of them even join you in battle, although their help isn't quite great. This is also the only game in the Mana series which does feature a chocobo, and he can walk on the water. Later games in the series probably didn't include the chocobo because they weren't Final Fantasy games any longer, so they introduced cannon travel instead. At any rate, although the story is nothing breath taking, the world in which FFA is set is a nice charming world and will want you to keep playing.
The graphics are really nice, while nothing breathtaking again they have Final Fantasy element, and a lot of monsters from Secret of Mana actually originated here in black&white. The bosses looked really awesome, but were rather poorly animated, but this is due to the old slow Game Boy LCD. To compensate the lack of colors Square did good tricks here and here. The only beef I have with the graphics is that the inside of all buildings all looks exactly the same, it just have walls and a floor, while the overworld is really gorgeous for an original Game Boy game. Why ?
The soundtrack of the game is very good, in fact it may be one of the best soundtrack for the original Game Boy I know. There isn't that many tracks, but those that are here are really good. I love the overworld song. There is also a place in the game that is completely silent (no music), because all bards of the towns were turned into birds I think. Once you rescue them there is music in the town again. Most towns and most instances have separate music which is very good.
Last but not least, the gameplay is varied as you have to solve puzzles, find secret passages and equip different weapons all the way. Most enemies are immune to some weapon so it forces you to switch often, and each weapon has a completely different attack sheme which is great. You can equip one item or magic at a time, and use it with the B button (while the A button attack). It isn't that great to have to switch very often, but it works fine. The Fire spell automatically target the enemy you think you want to fire (the Game Boy should have a mind reader hidden somewhere), while some other spells are either fully controllable (blizzard spell) or just go straight forward (thunder spell). There is also a healing spell and a couple of others spells too. When you level-up, your life and mana is completely restored (this is cool !) and you can increase one of the four stats : Attack, defense, magic power and magic resistance (something like this). The stats you select is increased by two, all the others are increased by one (I guess HP and MP also increase). This is a simple and easy to use level up system.
This game also features an "overdrive meter" although this should not be its real name, this is a meter that fills with time. The higher is your level, the faster it fills. When it becomes full, you can perform a couple of different super-attacks, depending on the weapon, and this was a fun feature. At the end of the game your level is so high that the you can perform overdrives all the way. Some puzzles even required you to use your overdrive with the chain weapon (which is the longest range attack of the game), and many required you to use ice spell to turn enemies to snowmen. Finally the game is not extensively hard, nor extensively easy. If you beat most enemies you cross, chances are that your level will go up fast enough for you to kick their ass with no problem. The beginning of the game is really tough and you need serious levelup right at the start. The bosses weren't very hard, but some still give me a hard time finding how to evade their attacks. This is probably the only game in the world that allows the player to save during boss battles, but the boss will very likely return with full health if you resume your game in his room, so it's not smart to do this. The game "remembers" the enemies you have defeated so that they don't appear again and again like in some games, but if you save and resume your game all enemies are back. This is a good trick for quick levelup, when you're near a water sources that allow you to heal indefinitely (but this is rare).

The Bad
The big problem with the game is the limited inventory, which is an horrible feature as you cannot carry more than 16 items and 12 weapons/armors which is very low (although some items can be used up to 7 times depending on the items itself). The game require you to open locked doors with "Keys" you can purchase or left by monsters, but if you run out of them, you'll have a HARD time. Even getting out of the whole dungeon to purchase new keys can be hard as you have to find a way without using keys (the game was designed so that is always possible fortunately). As you can save anywhere, be careful to not save when you're out of nowhere with little life and no items or something like that or you might be technically screwed. A problem is that both healing items and healing spells heal a ridiculously small amount of life, although the spell can be improved, while items cannot. Thanks god you regularly level up, so you should regularly heal completely.
The translation of the game seems to really not be good enough, the story is unintelligible and all text is in caps letters (even if your hero can have lowercase letters in his name), often awfully shortened. This is for the French version of the game I have (title Mystic Quest). I think the regular American/English version of the game is better in this department (as the game has been translated first in English and translated again in other languages from English, which sucks). So if you can it's better to play the game in English. Nintendo didn't care about European gamers back then, but this is still the first Squaresoft RPG ever released in Europe. The game is still playable and enjoyable anyways, and today we have ways to play games even when they weren't released in our country, and if we are lucky to play them translated when they weren't so we shouldn't complain.


The Bottom Line
Final Fantasy Adventure (or Mystic Quest if you're European) is a great action-RPG for the original Game Boy and started the great Mana series in triumph. This is an overall enjoyable and epic game, even if some parts are really hard without a walkthrough, the game is worth trying. While not an absolute must-play like Secret of Mana, it's still one of the best RPGs for the original Game Boy, and if you have the luck to find an actual copy of the game by all means buy it, this game is much better than all NES and SNES Zelda games added together when it comes to gameplay in action-RPGs. If you don't find any real copy buy it's "remake" Sword of Mana for the Game Boy Advance (my opinion is that it features superior graphics and sounds, but much inferior gameplay, some may disagree) or just play it emulated. Have a nice time enjoying this game.
Game Boy · by Bregalad (937) · 2008
The Good
This game is a great RPG. There are many weapons and spells to choose from. It has some interesting enemies and interesting ways to defeat them. the world you can explore seems endless, and the controls aren't too difficult. i would give this game a 4 out of 5!

The Bad
i understand this game was made in 1991, but they really could have done better as far as graphics. some parts of it are confusing and boring (sometimes you feel like your doing the same thing again and again!) It took me a while to understand the story.

The Bottom Line
i would recommend this game if you're a newcomer to the final fantasy series or if you just like fantasy games.
Game Boy · by Steve Valliere (1) · 2005
Trivia
Development
According to the magazine Retro Gamer, the game is loosely based on the cancelled Seiken Densetsu: the Emergence of Excalibur for the Famicom Disk System.
Remake
Seiken Densetsu was remade as Sword of Mana for Game Boy Advance.
Title
Final Fantasy Adventure is not a main entry in the Final Fantasy series. In reality, it is the first game in the Seiken Densetsu (Holy Sword Legend) series.
Awards
Retro Gamer

October 2004 (Issue #9) – #8 Best Game Boy Game
Information also contributed by Joshua J. Slone
Related Sites +
FF-Fan
A fansite that offers all kinds of information on the entire Final Fantasy franchise, including walkthroughs, game media, discussion boards and fan art.
OC ReMix Game Profile
Fan remixes of music from <em>Final Fantasy Adventure</em>.
Contribute
Are you familiar with this game? Help document and preserve this entry in video game history!