Command: Aces of the Deep
aka: Asse der Tiefe
Moby ID: 4576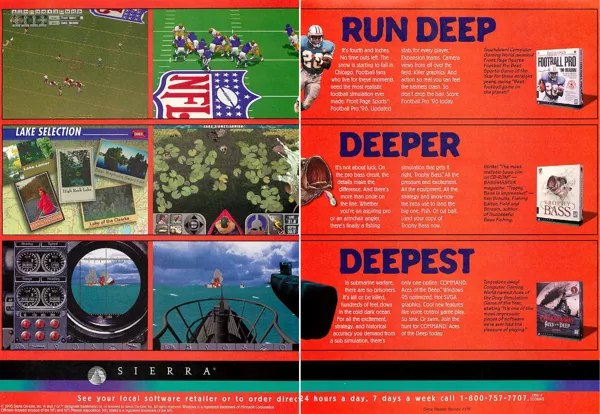 Credits (Windows version)
69 People (64 developers, 5 thanks) · View all
Producer
Lead Programming
Technical Director and Programming
Additional Programming
Art Director
3Space Shape Modelling
3D Animation and Art
Additional Graphics / Artwork
Photography
Theatrical Coordinator
Design
Historian
[ full credits ]
Critics
Average score: 87% (based on 6 ratings)
Players
Average score: 4.0 out of 5 (based on 4 ratings with 1 reviews)
Submarine simulation at its best.

The Good
I enjoy the realism available in this simulation. There are historically correct details from allied convoy strategies down to torpedo failure rates. The realism level can be customized and your score is adjusted accordingly. While in career mode you will be assigned a patrol area and will receive radio transmissions about convoys in transit. Single missions are also available - warship encounters, day, night, foggy, clear, moonlight. The possibilities are endless.

The Bad
The sound is difficult to get working on modern computers. Soundblaster or 100% compatible cards are reportedly the only cards that will work. When changing between screens during the simulation there is about one second where the game "plays" at three to five times normal speed. If you switch from the control room to the periscope for example, when your periscope view comes up you will see the ocean waves madly dashing across your view as if on fast forward. And this is on a 133 MHz Pentium with Windows 98SE! I have not been able to get the game running at all on anything newer. The game (Command Aces of the Deep) was originally Windows 95, Aces of the Deep was originally for DOS 5.0 or above.

The Bottom Line
Aces of the Deep is a historical simulation. Game is not quite the right word. Your role is that of a U-boat captain. If you choose career mode you start in 1939 patrolling mainly in the North Sea. If you are successful you will progress to better submarines and longer missions. The documentation that comes with the game includes a patrol map approx. 16" x 20" complete with the coordinates of every sea zone. You will need this map to reach your assigned patrol area while playing. Fortunately there is a chart view in the game, and as you plot your course the coordinates your mouse is pointing to are visible at the bottom. If you never reach your patrol area you can still have a successful mission simply by sinking ships. The cd also has interviews with real German U-boat commanders. These are accessible through the "on-line" manual.
This game will give you a new appreciation for the silent service.
Windows · by Sinistar (17) · 2004
Trivia
Voice Recognition
Command: Aces of the Deep was supposed to be the first in a series of "Command" games from Sierra/Dynamix that used voice recognition as a control type. Due to lackluster sales, the idea was scrapped.
Windows 3.1
The minimum requirements on the game box (or some of them) state that the game will run in Windows 3.1, however a printed correction was found inside the box from Sierra claiming that due to the game's advanced features, it is only designed for and will run on Windows 95.
Information also contributed by WildKard
Contribute
Are you familiar with this game? Help document and preserve this entry in video game history!