Final Fight
aka: Final Fight CD, Street Fighter '89
See Also
Final Fight (1990 on SNES, 2007 on Wii, 2013 on Wii U...)
(prices updated 9/22 9:33 AM )
The streets of Metro City are filled with criminals who are part of a gang called Mad Gear. Former wrestler and newly elected mayor Mike Haggar tries to do something about it, much to the displeasure of the Mad Gear Gang who kidnap his daughter Jessica. Only three people are brave enough to venture into the crime-infested streets and try to bring Jessica back.
Final Fight is a 2D side-scrolling fighting game. Taking on the role of either Cody, Guy, or the mayor Mike Haggar himself, you must advance through six areas of the city clearing out the gang infestation. You will have to cope with a variety of thugs, ranging from firebomb-throwing maniacs to behemoth wrestlers. To defeat these thugs, you have an arsenal of punches, kicks, throws, and jump kicks at your disposal.
The Sega CD port adds voice acting to the game's intro and ending cutscenes and also adds a time attack mode (beat up as many enemies as possible in a limited amount of time). This version can only display four enemies on screen at once. The C64 version can only display two enemies on screen at once.
The SNES version has seen some significant changes.
Spellings
ファイナルファイト - Japanese spelling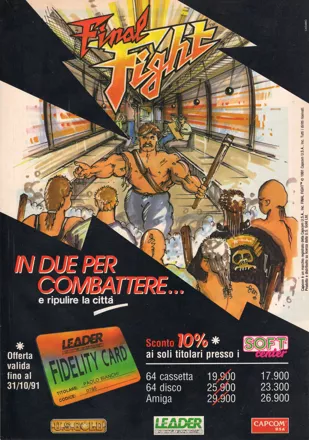 Credits (Arcade version)
25 People (21 developers, 4 thanks)
Critics
Average score: 73% (based on 42 ratings)
Players
Average score: 3.8 out of 5 (based on 121 ratings with 5 reviews)
Better than Final Fight on the SNES. Worse than Streets of Rage 2.

The Good
Final Fight CD is was the best version of Final Fight to hit the home console market until 2005 when it came out for the Playstation 2. It has many features missing from the Super Nintendo translation such as the missing level, the female characters, and the missing playable character, Guy.
There are some extra features and graphics not found in any other version of Final Fight such as additional into screens. There are also three timed levels with new backgrounds that are not found in the Arcade. I would rather they had incorporated them into the main part of the game as extra levels than making them selectable demos, however.
It is better than Final Fight for the SNES, better than Streets of Rage for the Genesis, and better than Final Fight 3. It is inferior to Streets of Rage 2 and about on par with Final Fight 2.
This was the best fighting game for the Sega CD and was among the main reasons many purchased the Sega CD system (which had few merits).

The Bad
The color pallet on this game is tremendously reduced from the arcade game, making the graphics inferior to its SNES counterpart.
This is not excusable because Sega's own Streets of Rage 2 had far more colorful graphics than Final Fight CD. Final Fight CD has all of the muscle of the Sega CD's extra processor and extra storage capacity leading one to believe that the only reason it could possibly have such a washed out color pallet is due to lazy programmers.
The music tracks are silly. I would rather have had a duplication to the Arcade game than the silly jazz tracks they put on this CD. The voices are also campy and poorly acted.
The game is has worse play control than the arcade resulting in difficult situations in which it is impossible not to get killed (in later stages).

The Bottom Line
This is arguably the best version of Final Fight to come to home systems prior to the Capcom Classics Collection for the PS2. It has some extra features seen in no other version of Final Fight making it worthwhile for collectors. I'd recommend the PS2 version over this one, however.
If you like this game I would also recommend the following: Streets of Rage 2 (Genesis) Final Fight 2 (SNES) Captain Commando (SNES) Capcom Classics Collection (PS2) *Streets of Rage (Genesis)
SEGA CD · by Majestic Lizard (670) · 2014
Solid Port Of A 1980's Brawler

The Good
The Sega CD version retains many of the features that were cut out from the Super Nintendo ports due to memory limitations. The CD edition has a 2-player mode, the option to play as any of the three urban heroes and includes all the original arcade game levels. Unique to the CD version is an original sound track, voice work during some of the intermission sequences and a special time attack mode.
It remains one of the few side-scrolling, brawler action games for the Sega CD with a 2-player mode. Their are also some nice options such as the ability to adjust the level of difficulty.

The Bad
The severe hardware limitations of the Sega CD, meant that the 1993 CD port can not perfectly recreate the quality of an older arcade game. It could not even match the graphic capabilities of the Super Nintendo.
Final Fight CD, even if it had been a perfect port, suffers from being an 1980's brawler game without many of the improvements seen in subsequent 1990s games in that particular genre. Sega's own Streets of Rage 2 offers playable characters with many more offensive and defense moves, which are much easier to execute them the limited, often more cumbersome controls found in Final Fight CD.
One of the more common problems with early brawler games was the nasty habit of the computer to pull some pretty dirty moves out of its programming. For example, when your character falls down, thugs or even bosses often gather around you, thus ensuring that you will take some serious damage.
Last, but not least, Sega apparently still felt the need to censor the game. The transgender-women thugs were allowed to stay, but with less revealing attire. Certain Mad Gear thugs, such as 'Sodom' were given different names and bits of profanity were also toned down.

The Bottom Line
Final Fight CD is a solid port of a 1980s, brawler arcade game. Of the 16-bit ports it is closer to the original arcade game in terms of the number of playable characters, levels, bonus rounds and overall basic game play, with a few nice little extras, such as a cool sound track and the ability to adjust the level of difficulty.
If you can get past the Sega CD hardware limitations and the petty censorship, then you are left with one of the best games released for the Sega CD and one of the few Sega CD games with a 2-player mode.
SEGA CD · by ETJB (431) · 2014
Manages to be both better and worse then the other 16bit ports of the game

The Good
Final Fight is a classic arcade game in the beat 'em up genre.
It is not terrible complicated story and, it certainly doesn't waste time with ethics or philosophy. It is just you (and a friend) wandering through several urban locations, circa 1989, in order to beat the you-know-what out a dangerous criminals.
Simple? Yes, but still a heck of a lot of fun to play, especially if you are old enough to remember when the premiered at your local video arcade.
Several efforts were made to port the arcade game to the home console systems throughout the 1990s. In some ways the Sega CD edition is the best of the bunch.
Final Fight CD features all of the arcade's playable characters, and allows up to two people to place at the same time. Other cartridge editions of Final Fight had to eliminate some of the playable characters and only allowed for one player.
Final Fight CD also features some cool music, as well as the all of the arcade levels and bonus rounds. It is nice to see such some of the Sega CD's hardware potential being used.


The Bad
Final Fight CD does take a noticeable hit in the graphics department, as the designers had to work with the Sega CD's embarrassingly weak on-screen color and pallet capacities.
Like the Sega Genesis, the "Next Level" Sega CD hardware was limited to 64 colors on screen out of a pallet of 512. This was at a time in the industry, when must computers and even most cartridge and CD-ROM based game systems had better capabilities.
What does this mean for this game?
Basically, Final Fight CD cannot be a perfect port in terms of the graphics, and, arguably, has trouble matching the SNES (capable of 256 colors on screen from a pallet of over 32,000) of Final Fight in this respect.
Sega allowed the Sega CD port of Final Fight to retain the female (technicaly, they are transsexuals) enemies from the original arcade games, albeit with less provocative clothing. Although certain character names (I.e. "Sodom") were still modified.
Frankly, the censorship seems a bit silly, although I can appreciate why such changes were made, especially when this was before the ERSB was created in to rate games (in the U.S. and Canada) for possibly offensive, objectionable or questionable content.
I suppose the biggest complaint, aside from the censorship or hardware limitations, is that the genre that Final Fight helped to build, had since moved on.
None of the playable characters have nearly as many possible offensive and defensive moves as, say Streets Of Rage 2.

The Bottom Line
Final Fight CD is a solid port of the arcade game, with all of the playable characters, bonus leaves and ability to play the game without th a friend. It shows its age, as well as the hardware foilables of the Sega CD, but fans of beat 'em ups will still want to give this one a spin.
SEGA CD · by browned (118) · 2014
Trivia
1001 Video Games
The Arcade version of Final Fight appears in the book 1001 Video Games You Must Play Before You Die by General Editor Tony Mott.
Amiga port theme music
Jolyon Myers' theme music from the game's Amiga port is an original composition of his called Lost In Time, originally made for the 1990 Amiga demo/musicdisk Amazing Tunes II, which also had other tunes by Myers under his scene name The Judge (Final Fight credits him under that name rather than with his real name). While the actual compositions and samples are identical between both versions, the version used on Final Fight plays slightly faster than the original Amazing Tunes II version.
Amiga startup-sequence code reference
Amiga version programmer Richard Aplin included a humorous piece of text in that version's startup sequence, in which he dismisses the accomplishment of Ronald Pieket Weeserik's Dynamic Loading System, used in SWIV to load the game as it played without losing any speed. Aplin argues that others had written the same code trick before, but found it too unwieldy to justify its use in most circumstances - though it was on show in Final Fight.
Development
Capcom firstly designed Final Fight to be the sequel to Street Fighter named Street Fighter '89, but they changed their minds and decided to give the game a new name and start a new series.
Sales
According to publisher Capcom, Final Fight has sold 1.48 million copies worldwide since its initial release (as of June 30, 2016).
Version differences
All home computer versions of Final Fight include a shot of the Mayor's daughter tied up in her underwear during the opening sequence, which was only seen in Japanese arcades (it was censored in Europe and America).
The female gang members (Poison/Roxy, etc.) haven't had much luck appearing in the home ports of the game. All the Nintendo versions replaced them completely with male enemies (this includes the GBA remake, at least the US version) and while they appear in some rare ports they can only be found with edited clothing. Only the rare Japanese SEGA CD version shows them in their original form.
In contrast to the SNES version of Final Fight, the U.S. version of Final Fight CD had less differences to the original Japanese version: the girl punks were given slightly longer clothes, blood was taken out, Jessica wears her red dress in the intro (she was stripped to her underwear in the arcade and Japanese versions), DamnD's name was changed to Thrasher, Sodom's name was changed to Katana, the "SEXY" graffiti from the restroom stalls in one level was removed, and the references to beer and whisky were removed.
Wrestling connection
The enemy Andore was based on a wrestler called Andre the Giant. The story of Mike Haggar also has a parallel with the story of former wrestler Jesse Ventura, who left the ring to become governor in Minnesota.
Awards
Commodore Format

July 1993 (Issue 34) - Modern Classics: Beat-'em-ups (It's a Croaker!)
November 1994 (Issue 50) – #2 & #5 The Bottom 10
Information also contributed by Alexander Michel, Cantillon, Depth Lord, Johnny "ThunderPeel2001" Walker, Perfil Falso, and Zovni.
Contribute
Are you familiar with this game? Help document and preserve this entry in video game history!
Contributors to this Entry
Game added by NeoMoose.
Arcade added by 666gonzo666. iPhone added by Sciere. ZX Spectrum added by Martin Smith. J2ME added by Deleted. SEGA CD added by Satoshi Kunsai. Sharp X68000 added by Terok Nor. Commodore 64, Amstrad CPC added by Katakis | カタキス. Amiga, Atari ST added by The Ring Hawk.
Additional contributors: Terok Nor, Satoshi Kunsai, chirinea, Alaka, Martin Smith, Lance Boyle, Caelestis, CalaisianMindthief, Patrick Bregger, FatherJack.
Game added October 4th, 2001. Last modified August 17th, 2023.