(prices updated 9/26 3:11 AM )
Description
A research institute is located on a remote island. Apparently the researches being conducted there have some sort of an unofficial link with the military, so journalist Albert Macdgul is sent to investigate and see what he can find out. At the same time Tina, a young girl, is washed ashore on the island with no recollection of what has happened to her or who she is. Meanwhile, the technical manager Makoto Izumi seems to think that something weird is going on with the researches being conducted.
Desire is a Japanese-style adventure game. The game is played via a standard text interface where the player selects commands from a menu, interacting with other characters and places. The game consists of four chapters which make up the same storyline, but viewed by different characters. In each chapter the player will see the events and situations from different angles and uncover layers of the main plotline.
The computer versions of the game have scenes with explicit nudity and sexual situations, which are not present in the console releases.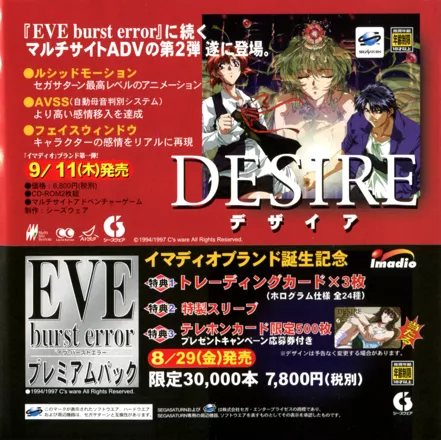 Credits (SEGA Saturn version)
117 People (110 developers, 7 thanks) · View all
Critics
Average score: 70% (based on 1 ratings)
Players
Average score: 3.4 out of 5 (based on 15 ratings with 0 reviews)
Be the first to review this game!
Trivia
Version differences
The difference between PC and Saturn version is the absence of explicit sex scenes in the latter. There are still situations where the characters are supposed to make love, but nothing explicit is shown.
Contribute
Are you familiar with this game? Help document and preserve this entry in video game history!