Tony La Russa Baseball 3
aka: Bianca
Description
The 3rd installment in the Tony La Russa Baseball series. This sports an array of new features and improvements for both arcade-action fans and baseball strategists and statisticians.
The response time of all input device options has been optimized to improve the reactions of the on-screen ballplayers. From pitching and hitting to running and fielding, gamers will now enjoy quicker, more responsive interaction when playing the game.
With the new pitcher/batter matchups, specific confrontations between each pitcher and batter can now be simulated even more accurately, with an expanded database of stats reflecting each pitcher's and batter's tendencies versus any opponent they've faced during their careers.
In addition to providing detailed play-by-play and color commentary for each game in the "action (arcade) mode" as they did in Tony La Russa Baseball 3, the game's veteran announcers, Mel Allen, Lon Simmons, and Hank Greenwald, supply more realism than ever by referring to each player by name when pitching, batting, fielding and baserunning.
Two "universes" of data-final 1995 season stats and 1996 Spring Training rosters-are available when simulating a single game, an entire season, or multiple future seasons in the "General Manager Challenge" mode.
New stat categories have been added, which help define each hitter's performance in specific situations, such as: runners in scoring position; pinch-hitting appearances; and other critical circumstances such as close games in the late innings.
Clutch performers like Wade Boggs, Mike Piazza, Barry Bonds, and Don Mattingly are now portrayed more faithfully than ever before.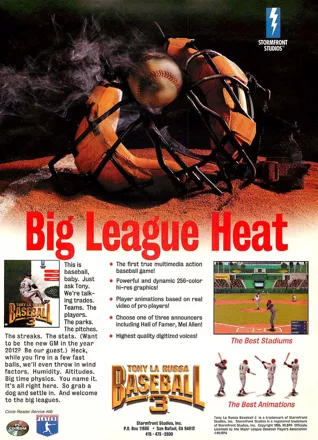 Credits (DOS version)
86 People (73 developers, 13 thanks) · View all
Product Director
Executive Producer
Programming
Interface Screen Design
Audio Engineering
Testing
Baseball Manager AI
Announcer Voices
Project Leader
Art Director
Programming Team
[ full credits ]
Critics
Average score: 88% (based on 2 ratings)
Players
Average score: 4.4 out of 5 (based on 1 ratings with 0 reviews)
Be the first to review this game!
Trivia
Awards
Computer Gaming World

November 1996 (15th anniversary issue) – #128 in the "150 Best Games of All Time" list
Contribute
Know about this game? Add your expertise to help preserve this entry in video game history!