Super Monkey Ball
aka: Monkey Ball
You play as one of four monkeys, each one trapped inside a transparent ball. You are tasked with reaching the goal in each level by tilting the playing field, resulting in your monkey "rolling" forward or backward. Several obstacles lay in between your monkey and the goal, and a time limit means you can never spend too long on a given level. Bananas are found across the levels, which both contribute to your score and grant an extra life per 100 collected.
The three main difficulty levels are Beginner, Advanced, and Expert, each of which offers more maps to play and a greater challenge. EX and Master levels are unlocked by performing well on these maps. A Competition mode allows multiple players to play these levels simultaneously on a split screen.
There are also various mini-games for you to unlock, such as Monkey Billiards and Monkey Bowling.
Spellings
スーパーモンキーボール - Japanese spelling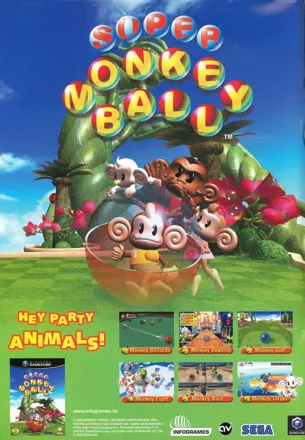 Credits (GameCube version)
71 People (42 developers, 29 thanks) · View all
Game Program Director
System Programmers
Party Game Programmers
Mini Game Programmers
2D System Programmer
Stage Design Director
Stage Designers
Motion Design Director
Motion Designers
2D Designer
Character Designer
Planners
[ full credits ]
Trivia
1001 Video Games
Super Monkey Ball appears in the book 1001 Video Games You Must Play Before You Die by General Editor Tony Mott.
Bananas
The developers of Super Monkey Ball actually licensed the logo for Dole bananas for the bananas in game.
Product codes
For the Japanese and German releases of the game, a game media product code normally used for multi-disc games was used.
Awards
GameSpy

2001 – GameCube Action Game of the Year
Contribute
Know about this game? Add your expertise to help preserve this entry in video game history!