Super Monkey Ball
aka: Monkey Ball
Moby ID: 5502
You play as one of four monkeys, each one trapped inside a transparent ball. You are tasked with reaching the goal in each level by tilting the playing field, resulting in your monkey "rolling" forward or backward. Several obstacles lay in between your monkey and the goal, and a time limit means you can never spend too long on a given level. Bananas are found across the levels, which both contribute to your score and grant an extra life per 100 collected.
The three main difficulty levels are Beginner, Advanced, and Expert, each of which offers more maps to play and a greater challenge. EX and Master levels are unlocked by performing well on these maps. A Competition mode allows multiple players to play these levels simultaneously on a split screen.
There are also various mini-games for you to unlock, such as Monkey Billiards and Monkey Bowling.
Spellings
スーパーモンキーボール - Japanese spelling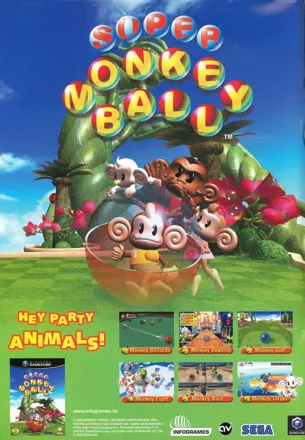 Credits (GameCube version)
71 People (42 developers, 29 thanks) · View all
Game Program Director
System Programmers
Party Game Programmers
Mini Game Programmers
2D System Programmer
Stage Design Director
Stage Designers
Motion Design Director
Motion Designers
2D Designer
Character Designer
Planners
[ full credits ]
Critics
Average score: 85% (based on 35 ratings)
Players
Average score: 3.7 out of 5 (based on 65 ratings with 2 reviews)
Great multiplayer game, lacks story

The Good
Lots of mini-games for up to 4 players means this is a good game to play with your mates also there is a great range of mini games to play including mini golf, bowling and monkey race to keep everyone occupied.

The Bad
The story in the 1player mode is basically none existent meaning it needs a great deal of patience to keep yourself occupied before you even get the mini games. Also the last few levels on expert mode end up being next to impossible for example I used 84 lives on the 43 level.

The Bottom Line
Great puzzle/action game for up to 4players as long as you can cope with the boring story mode and insanely hard last levels.
GameCube · by Da-Flea (30) · 2004
Sega bring us yet another brilliantly playable and original arcade game.

The Good
I'll forgive you for voicing any misgivings you may have about a game in which you guide encapsulated monkeys around floating mazes in order to get to the exit, because I was once like you. Then I decided to give it a go. "It has to be good! It's Sega for crying out loud!" said I and suddenly I was a changed gamer. Okay, okay so I didn't undergo some kind of bizzare rebirth into the light of monkeys but I did find myself unable to put down the Gamecube controller until hours later and constantly drawn back to it's simple charms.
Super Monkey Ball (SMB) plays a bit like marble madness on steroids but much more addictive. You simply must guide your encapsulated monkey around various courses in a bid to reach the exit before the time runs out. The big catch is that each course takes place over a bottomless pit and if you fall off then it's back to the start. There are 3 challenges, the first being the 10 stage 'Beginner' which is a cakewalk, however things soon hot up with the next mode: 'Advanced' in which there are 30 stages, all far more difficult than those on offer before and finally there is the suicidally difficult 'Expert' mode which features 50 insane stages. Of course if you're able to clear each mode without losing a life then you get extra stages to complete and if you can beat Expert on one credit (good luck!) then there's 'Master' mode. Needless to say, Master mode is ridiculously hard but you'll keep coming back no matter how many times you send the controller flying through the TV.
All this sounds far too hard I'm sure and when you first start playing it seems that way but that's the great thing about SMB. It's one of those games where you just keep getting a little better each go and before long, courses you used to wrestle with become a breeze (to a point). Of course you can play with friends and try to beat each others scores but the real multiplayer fun comes in the form of the six mini games that are part of the package. Each one is a lot more fleshed out than your average bonus games and include Monkey Billiards, Bowling, Mini golf, Boxing, Racing and the pilot wings-esque, Monkey Target. Each game has a lot of replay value and is a vastly different experience from the main game, what's more is that many of the mini games support 4 players simultaniously, providing endless fun.
The music is highly suitable and bops along to the action in an approapriate and inoffensive manner and the graphics are very pretty despite their simplicity, running a slick 60 fps.

The Bad
Of course the game can get infuriatingly frustrating at times but that's to be expected given what sort of game this is. In fact I would go as far as to say SMB gets a little 'too' hard at times with some stages so insane that only a few people will ever get through them. Basically though, as long as this kind of thing is your cup of tea then the game is near flawless.

The Bottom Line
A simple but fiendishly addictive arcade game with loads of stages, bonuses and replay value. The perfect party game. Try it regardless of whether you think you might be interested or not. You'll probably be pleasantly suprised.
GameCube · by Sycada (177) · 2002
Trivia
1001 Video Games
Super Monkey Ball appears in the book 1001 Video Games You Must Play Before You Die by General Editor Tony Mott.
Bananas
The developers of Super Monkey Ball actually licensed the logo for Dole bananas for the bananas in game.
Product codes
For the Japanese and German releases of the game, a game media product code normally used for multi-disc games was used.
Awards
GameSpy

2001 – GameCube Action Game of the Year
Contribute
Are you familiar with this game? Help document and preserve this entry in video game history!