Beyond Time
aka: Shadow of the Obelisk, Shadow of the Obelisk: Delve Into the Corridors of Time
Moby ID: 5669
Beyond Time is an inventory-based, mouse-driven adventure game based on the novel Obelisk by Dr. Judith Kaye Jones. "Obelisk" was the name given to it by the original designers when it was completed in 1995, but it was never published under that name. DreamCatcher picked it up for publishing 2 years later under the name Beyond Time, appropriate because the story does involve time travelling.
Rifts in time have occurred causing people and precious artifacts and treasures to disappear mysteriously all over the world. Travel to ancient Egypt, Tibet, the Yucatan peninsula and Atlantis to find the missing masterpieces of the world and repair time itself. Only your puzzle-solving skills can save humanity from impending doom.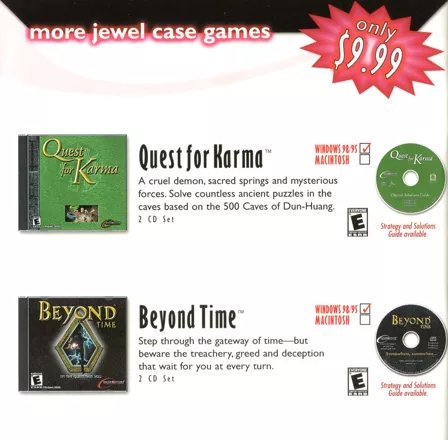 Credits (Windows version)
65 People (64 developers, 1 thanks) · View all
Co-Exec. Producers, Original Story, Game Design
Design, Art, Animations, Engine, Add'l Sound Effects
Executive Producer, Art Director, Video Script/Producer, Costume Director & Designer, Texture Maps, Scroll Designs
Original Story, Game Design, Add'l Sound Effects, Animator, Interface Design, Script Supervisor
Associate Producer, Crew Director, Digital Compression, Director of Photography, Video Effects Editor
Video Editor, Video & Animation Editor
Sound Designer, Musical Score, Sound Effects, Foley
Add'l Sound Effects, Animation Supervisor, Animator, Scripter
Asst. Costume Director, Costume Designer, Additional Texture Maps
Sound Effects, Foley
Animator, Scripter, 3D Modelling
Game Team
Cast
[ full credits ]
Critics
Average score: 44% (based on 8 ratings)
Players
Average score: 2.9 out of 5 (based on 17 ratings with 0 reviews)
Be the first to review this game!
Trivia
Awards
Computer Gaming World

April 1999 (Issue #177) – Runner-up as Coaster of the Year (Adventure)
Contribute
Are you familiar with this game? Help document and preserve this entry in video game history!