Description
You are returning back to Earth after a five year mission patrolling the outer reaches of Province 4. Problems have arisen though on your journey as you lose control of your ship with engine damage. Looking out you see the lack of light and realise to your horror that you are being sucked into a black hole. The thing with this black hole though is that it is an alien scrap collection system, The Tube. You must now enter The Tube, survive and exit the other side.
The Tube is split into three zones:
The first is the Transfer Zone which captures and sucks debris into The Tube. Here you must avoid the debris or lose energy. You can shoot debris with your weapon.
The second is the Defence Mechanism Tunnel. This place is to weaken any debris by smashing it. You must avoid or shoot anything trying to hit you as well as force fields and radar traps.
The third and last zone is the Capture Area. This is where ships and debris are stored before being dismantled by the aliens. Some ships still have amounts of energy. You can dock with these ships and drain the energy. If you don't have enough energy for your shields then it's game over. Also some ships have energy crystals to recharge your ship engines.
The first zone is viewed as a 1st person 3D shoot-em-up. The debris comes towards you from the distance. The joystick controls a sight while the fire button fires your weapon. The second zone is a horizontally scrolling shoot-em-up. The joystick controls your speed as well as steering the ship. The fire button shoots your weapon. The third zone is a top down view of the Capture Area. The joystick steers your ship.
As well as the main playing area you can see the distance needed to travel, time, shields and energy.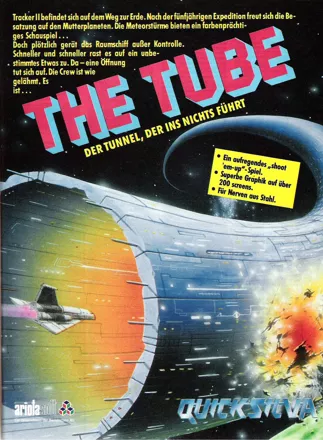 Credits (Commodore 64 version)
8 People (5 developers, 3 thanks)
| | |
| --- | --- |
| Programmed by | |
| Graphics by | |
| Music by | |
| Logic Game & FX | |
| Special thanks to | |
| Package Illustration by | |
Critics
Average score: 56% (based on 3 ratings)
Players
Average score: 2.3 out of 5 (based on 4 ratings with 0 reviews)
Be the first to review this game!
Contribute
Are you familiar with this game? Help document and preserve this entry in video game history!