Cyrus II Chess
aka: 3D Chess, Ajedrez Tridimensional, Cyrus II - Schach, Cyrus II: The Grand Master
Cyrus II Chess is a chess program, it is the sequel to the acclaimed Cyrus which was released in 1982.
This game has most of the features of the earlier game. The board can be viewed in top-down mode or in a 3D isometric mode with the player being able to switch between the two by pressing the ESC key. There are twelve skill levels, level 1 - 9 affect the time the player has to make their move from just 2 seconds per move at level 1 through to a maximum of 3 minutes at level 8. The other three skill levels are Adaptive where Cyrus plays at the same rate as its opponent, Infinite where Cyrus will keep on thinking until told to make a move, and Problem where Cyrus searches for mate in five moves or less.
Other features include watching the computer play itself, switching sides, retracting and replaying moves, a hint facility, and being able to set up chess problems for Cyrus to solve.
There is also support for a printer so that either the current board or the contents of Cyrus' memory containing the current position plus recent moves can be printed at any time. Additionally the game can be printed move by move as it progresses to preserve the full record.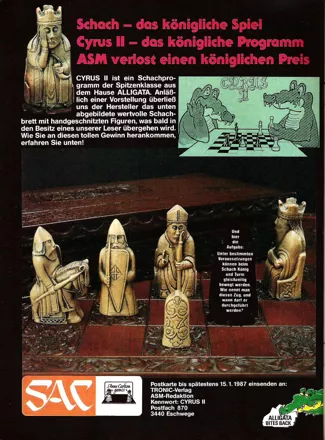 Critics
Average score: 79% (based on 5 ratings)
Players
Average score: 2.6 out of 5 (based on 8 ratings with 0 reviews)
Be the first to review this game!
Contribute
Are you familiar with this game? Help document and preserve this entry in video game history!
Contributors to this Entry
Game added by piltdown_man.
Commodore 64, MSX, Amstrad PCW added by Rola. ZX Spectrum, Enterprise added by Kabushi.
Additional contributors: Kabushi, Rola.
Game added December 26th, 2012. Last modified February 22nd, 2023.