Tokyo Xtreme Racer
aka: Shutokō Battle, THC, Tokyo Battle Racing, Tokyo Highway Challenge
Get in your fast car and race around the Tokyo highway at night, challenging drivers from rival gangs to a race. The winner gets a cash prize, so you can upgrade your car or buy a new one. If you start winning consistently enough, you soon become famous enough to be challenged by various gang leaders, and finally the four Devils, who are the best, fastest, and least seen drivers of the night.
Spellings
首都高バトル - Japanese spelling
首都高赛车 - Simplified Chinese spelling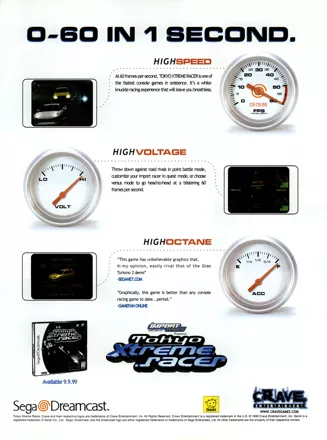 Credits (Dreamcast version)
62 People (50 developers, 12 thanks) · View all
Executive Producer
Producer
Director
Car Design Lead
Car Design
Assistant Car Design
Car Design Advisor
Course Design Lead
Course Design
Assistant Course Design
Building Design
2D Design
Visual Direction
Lead Programmer
Vehicle Motion
Car Collisions
Course & Visual Effects
2D & Effects
2D & Sound
Car Control & Peripherals
Fine-Tuning
[ full credits ]
Critics
Average score: 69% (based on 17 ratings)
Players
Average score: 3.6 out of 5 (based on 12 ratings with 2 reviews)
The Good
The game is just simply amazing. Mission based driving games are always fun and this is also a strait up import game with a bunch of cars and a nice sense of speed. The graphics are just beautiful; think about it, This game came out a year after R4 and a year before Midnight Club and it looks better than both of them. The best part is you can drive around all you want before you get into a race instead of going trough menu after menu picking out a rival.

The Bad
There really isn't to much a hate about this game. I guess if you don't like instrumental music than you might not be fond of the Techno/Rock soundtrack that is in the background. I guess the only real complaint is have is the lack of a reverse button, but I don't think you would need it to much.

The Bottom Line
To think something this good came out back when the PS1 was the most popular system. People looking at this back then must have just been amazed. If you enjoy games like Ridge Racer, Need for Speed, Driver, and Burnout, then you should love this classic.
Dreamcast · by Devin Walters (2) · 2010
Beautiful graphics, very addictive

The Good
I really like the graphics in this game, you are looking at FPS of almost 60! The taillights on the cars blur with the motion and it all takes place under city lights in Tokyo. Probably one of the best looking games for Dreamcast. Also the cars in this game are VERY customizable. Including 16 million car colors, body kits, lights, spoilers, air dams, and wheels. The gameplay is fun and pretty addictive. Unlike a lot of racing games, this one tends to be more on the side of simulator rather than arcade style. Body roll, Tire Grip, even the physics of touching another car even slightly. Another cool thing is that you only race people who you challenge (except for gang leaders, they will challenge you) Even though the names and styles may have been altered, the cars are based on actual cars (cost and performance included!)

The Bad
The game is great but does have its drawbacks. One is that there is only one track. You can go both ways, but even then there are only two. The musical track also starts to wear on you after a while. This isn't really a drawback but it will be evident once you get up into the final parts of the game. The four devils are EXTREMELY difficult. even the slightest mistake (SUPER SLIGHT) or fraction of an ounce of bad luck and you will lose the race. period. My brother cried and broke the remote yelling "This stupid thing cheats!" (mind you he was 21 at the time)

The Bottom Line
Worth buying, Even if you're not into "tuner" cars ( I know I'm not! )
Dreamcast · by Kurtis Davis (3) · 2008
Contribute
Know about this game? Add your expertise to help preserve this entry in video game history!