The Granstream Saga
aka: Granstream Denki
Moby ID: 5880
Many years ago, the Allied Spirit Army fought the malevolent Imperial Wizardry in a prolonged war. Neither side could gain the upper hand until the Imperial Wizardry designed a weapon with too much destructive power. Causing the planet's axis to shift, the deployment of the weapon resulted in the melting of polar ice, which led to a world-wide flood. Four wise men designed a mechanism that allowed the planet's four continents to float above the water. For generations, the secrets of maintaining the mechanism have been passed from the wise men to their descendants. But now, the last of those are gone, and the planet begins to sink into the vast ocean.
Eon is a young man who lives on the continent of Shilf with his foster father. One day, he discovers the powers of a magical orb he found when he was a child. Seeing these powers, Eon's foster father realizes that he might be connected to the wise men of the past. Eon must find the only person who can fix the continent-raising mechanism, and prevent a terrible disaster.
The Granstream Saga is an action game with strong RPG elements, and a spiritual successor to Gaia games. The player controls Eon as he explores overworld and dungeon locations, which are presented in overhead-viewed 3D. Battles are one-on-one; whenever an enemy is encountered, the view is zoomed on the combat participants who must fight each other until one of them emerges victorious. Eon can use swords, daggers, or axes against his enemies. He has a variety of attack moves at his disposal, including combos, shield-breaking abilities, etc.; he can also actively guard and cast magic spells. Leveling up, which increases Eon's attributes, occurs at set intervals throughout the game rather than from accumulating experience points.
Spellings
グランストリーム伝紀 - Japanese spelling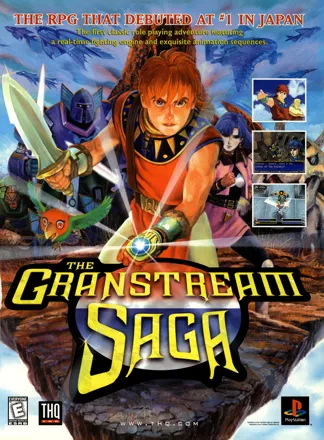 Credits (PlayStation version)
145 People (141 developers, 4 thanks) · View all
Special Thanks
Producer
Director, Game Design & Systems
Production Director
Sound Director
Sound Assistant Director
Character Design
Monster Design
World Design
Scenario
Writer (English Version)
Writer, Animation Sequences (English Version)
Programming & Tools
CG Design, Modeling & Animation
Music & Sound Effects
[ full credits ]
Critics
Average score: 70% (based on 20 ratings)
Players
Average score: 2.6 out of 5 (based on 5 ratings with 1 reviews)
The Good
The Granstream Saga has a very Japanese feel to it. The storyline is somewhat interesting and slightly unique. The anime cut scenes are a great addition, and are very well done. The facial close-ups during the dialogs are also quite nice. The game isn't too long, which is a good thing for a mediocre game. No need to draw it out. Graphics-wise, the 3D objects are smooth and well animated, yet...

The Bad
...the graphics are very clunky and ugly. There is very little in the way of textures, and characters' faces are nonexistent. The camera mostly stays in the sky like most RPGs, making the 3D graphics almost useless.
The music is very plain - nothing stands out. The sound effects are cheap sounding and overused. The voice acting wasn't too impressive, especially Arcia's. I didn't really expect great voice acting though.
Although the story is interesting, it almost seems as if the game designers made it up as they went. Especially towards the end, certain things happen which make little sense with no real explanation given. (Such as your end-of-game "decision".) Because of this, the story weakens towards the end. Also, many of the characters' lines are extremely clichéd, and you get no real sense of emotion from them. Everyone in this game is a cookie-cutter "save-the-world" RPG character. There is very little in the way of personalities or character development.
Game play-wise, the action-oriented battles were a mistake. The control is slow in responding, and you sometimes won't hit an enemy when you think you should. And unless you find the secret "ultimate" sword in the beginning, all battles will be ridiculously difficult. However, the "ultimate" sword will make all battles quite easy. Not really a problem again, since I really didn't want to spend too much time on this game.

The Bottom Line
There is really nothing great at all about The Granstream Saga, yet I enjoyed it. It was an easy game to finish, and had a somewhat pleasant story. Although the 3D graphics are ugly, the anime cut scenes and close-ups make up for it. If you are looking for a simple RPG to play with little effort, pick this one up.
PlayStation · by Rogee (499) · 2002
Contribute
Are you familiar with this game? Help document and preserve this entry in video game history!
Contributors to this Entry
Game added by Rogee.
Additional contributors: DreinIX, Rik Hideto.
Game added March 13th, 2002. Last modified November 24th, 2023.