Crash Bandicoot: The Huge Adventure
aka: Crash Bandicoot Advance, Crash Bandicoot XS
Crash Bandicoot makes his first appearance on the Game Boy Advance, in this, his 5th adventure against arch nemesis, Dr. Neo Cortex. This time Cortex has shrunk the world down to a tiny size and it is up to Crash to explore the 20 levels full of dangerous creatures and terrain to collect crystals that will (hopefully) change the world back to its normal size.
Crash explores 4 worlds, split into 5 levels. Levels range from side-scrolling action to underwater swimming and 3D chase sequences (similar to those in the original Playstation series) designed using the GBA's unique FX features to create a 3D illusion. You will also play flying shoot 'em up levels, a boss levels at the end of each world, and the usual extra bonus levels and secret items.
Spellings
クラッシュ・バンディクー アドバンス - Japanese spelling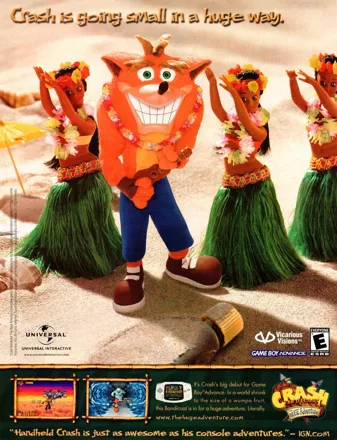 Credits (Game Boy Advance version)
84 People (47 developers, 37 thanks) · View all
Executive Producers
Project Managers
Game Design
Additional Game Design
Programming
Graphics
[ full credits ]
Critics
Average score: 82% (based on 20 ratings)
Players
Average score: 3.6 out of 5 (based on 15 ratings with 1 reviews)
Fantastic game which plays really well onto the GBA

The Good
It is the standard Crash Bandicoot but it is slightly different. The levels are difficult but not impossible - some of the enemies are new and the gem collection rules are different on the GBA. The graphics are excellent, once you complete a bonus level it stays completed even if you loose a life 2 minutes later. They act as checkpoints which is fantastic

The Bad
There isn't a lot to dislike about this game unless you dislike Crash Bandicoot games altogether.

The Bottom Line
Fantastic and fun. Challenging and addictive but can easily be saved if you do have to stop playing at short notice. Just remember to charge up your GBA as you could start playing for 5 minutes and finish an hour later!
Game Boy Advance · by Sandra Starling (4) · 2003
Contribute
Are you familiar with this game? Help document and preserve this entry in video game history!
Contributors to this Entry
Game added by Kartanym.
Additional contributors: Tailsbandicoot, Zaibatsu.
Game added March 13th, 2002. Last modified February 27th, 2023.