You are Chauncey, a serving lad who saves his monarch from choking on his meal. The King rewards you with his magical sword, Grimthwacker, and a village, and the mission to go forth and prosper by felling waves of Hordlings, who are bent on eating everything in the province. The better you get at defending villagers, crops, and cows from Hordlings, the better equipped you become. Success wins you further favor from the King, along with bigger challenges and more enmity from the evil High Chancellor. There are several types of Hordlings, each with their peculiar style of picking through the edibles under your care. Success is measured by how many villagers and crops survive each season's gluttonous attacks.
Spellings
ザ・ホード - Japanese spelling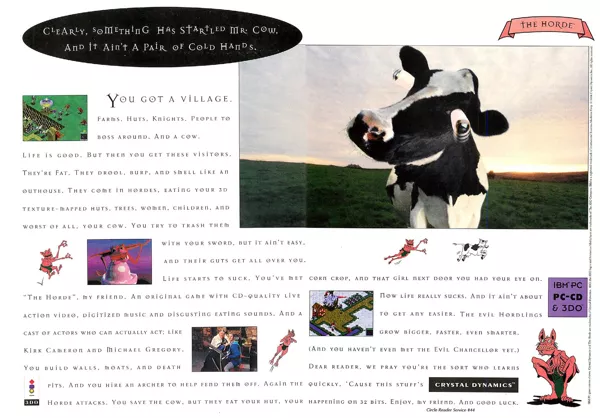 Credits (DOS version)
42 People (30 developers, 12 thanks) · View all
Programmers
Designer & Fiction
Artist
Producer
Live Action Sequences Directed by
Live Action Sequences Produced by
Video Production Services Provided by
Inspiration & Guidance by
Music
Video Editors
Manual
Additional Artists
Video Project Manager
Marketing Manager
Sound Effects
[ full credits ]
Trivia
3DO version
The original release of the 3DO version contained a bug that erased all other save data on the hard drive when a Horde game was saved. Crystal Dynamics offered to exchange the discs when users mailed in their defective copies.
Accident
The game makers almost ended up killing one of the game's actors (for real). In one FMV scene, the actor who plays the High Chancellor was supposed to eat a metal key (to reveal he wasn't really human). In order to do this a prop key was constructed out of chocolate sprinkled with cinnamon. Just as the actor was about to bit into the "key" he realized the prop men had made it out of chocolate, which it turns out he was fatally allergic to. The scene was later shot using a key made of carob instead.
Actors
Actors on the short list to play the main character in the FMV sequences included Jim Carrey and Michael "Kramer" Richards before they were household names. Jim Carrey managed to score a breakthrough movie deal instead, and Michael Richards was an animal rights activist who objected to the depictions of cow killing in the game. Kirk Cameron eventually got the role.
Cover
The box cover is designed to be a ravenous Hordling's mouth that actually opens and closes. Doesn't fit that well on the shelf, but it is attention-drawing!
Mail Order Monsters
This game is prefigured in a sense by 1985's Mail Order Monsters nine years earlier, which Paul Reiche III also worked on. In that game, one campaign mode is entitled "The Horde", with a goal of dispatching a large array of relatively trifling opponents with great rapidity.
Awards
Computer Gaming World

June 1994 (Issue #119) – Best On-Screen Performance (for Michael Gregory in his role as chancellor)
June 1994 (Issue #119) – Best Muscal Score
November 1996 (15th anniversary issue) – #8 Most Memorable Game Villain (Kronus Maelor)
Information also contributed by Alan Chan, Pseudo_Intellectual and Vance
Contribute
Know about this game? Add your expertise to help preserve this entry in video game history!