(prices updated 9/26 2:33 PM )
You are Chauncey, a serving lad who saves his monarch from choking on his meal. The King rewards you with his magical sword, Grimthwacker, and a village, and the mission to go forth and prosper by felling waves of Hordlings, who are bent on eating everything in the province. The better you get at defending villagers, crops, and cows from Hordlings, the better equipped you become. Success wins you further favor from the King, along with bigger challenges and more enmity from the evil High Chancellor. There are several types of Hordlings, each with their peculiar style of picking through the edibles under your care. Success is measured by how many villagers and crops survive each season's gluttonous attacks.
Spellings
ザ・ホード - Japanese spelling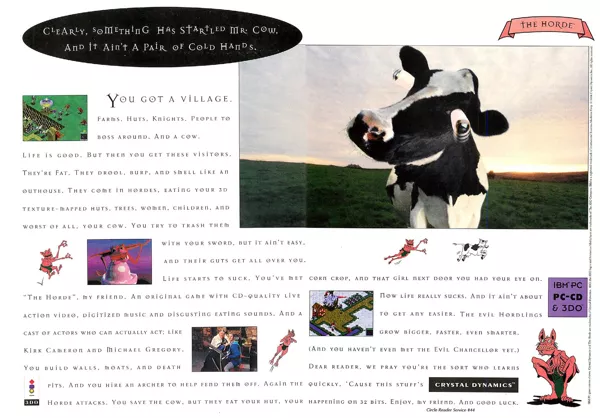 Credits (DOS version)
42 People (30 developers, 12 thanks) · View all
Programmers
Designer & Fiction
Artist
Producer
Live Action Sequences Directed by
Live Action Sequences Produced by
Video Production Services Provided by
Inspiration & Guidance by
Music
Video Editors
Manual
Additional Artists
Video Project Manager
Marketing Manager
Sound Effects
[ full credits ]
Critics
Average score: 76% (based on 36 ratings)
Players
Average score: 3.6 out of 5 (based on 29 ratings with 2 reviews)
A flawed gem that would have been groundbreaking with only a little more work.

The Good
The Horde is a lot of fun. It combines real-time action elements with a SimCity style of planning that lets you place traps and barriers in your attempts to protect a growing village from rampaging monsters. This combination is nothing new but this game's look and feel is rather novel and inventive. The graphics and music are excellent. Each land has its own specific look and theme song that really add a lot of depth and fun. The sound effects are clever and can be used as clues to where the horde is attacking. That familiar "moo" means one of your cows is in trouble and the "thumpthump" sound means that some monster is trying to beat down the walls to one of the villagers' houses. Speaking of cows they are the single most important part of your economy (being the most expensive thing in the game) and have some of the best animation I have ever seen. When you watch them grazing and chewing their cud you won't gasp like they did back in 1994 but you will be impressed. The city grows and changes in a very realistic way from season to season and since you have great control over the landscape you have to make some very important decisions. Houses and gardens are placed on the most fertile land and close to flowers and trees so if you remove too much of the natural landscape your population growth will slow down. Don't chop down enough trees and there won't be any room for new settlers! The maps are randomly generated for each land which allows for great replay value. There are even random events that make each game a little different from the last (this can be bad as well, see below). The full motion video movies are a little grainy but funny. While Kirk Cameron may be the star it's the evil High Chancellor who steals the show with his over the top acting. I found myself playing just so I could watch his next scene. If you hate the idea of movies in your game you can skip them with a click of your mouse button, a nice touch.

The Bad
The biggest problem with the game is the interface and controls. Getting Chancey to run at the horde is easy but it also easy to get him to run INTO the horde. You can carry several items to help you do battle but selecting them is very unintuitive and frustrating. To change your weapon you have to right click and then drag your mouse around until the item you want appears in your selection box then right click to activate it. This might sound easy but in the heat of battle this process will spell your death many times. The simultaneous release of this game on the PC and several console systems reveal that the programmers probably spent more time play testing this game with a joystick instead of a keyboard and mouse. The save feature is also very limited and indicative of a console game. There are five levels that are broken up into the four seasons (you have to spend a year on each land). In the early seasons you are generally attacked by the weak and young hordlings but at the end of the year you will have to face the huge brutish adults which can easily crush you. Since you can only save at the beginning of each year you will probably spend most of your time replaying the first three seasons to get back to the last one again and again. Combined with the fact that the game gets hard very fast and there is no difficulty selection you will quickly reach a level that becomes too hard. The ability to save after each season would have helped immensely. The game is quick and requires you to use fast timing and reflexes but this is hampered because when too many enemies get on screen the game begins to stutter and slow down. A fast processor and lots of memory don't seem to help at all. The random events, which will sometimes help you, can also be devastating. Certain events such as the "adopt a hordling program", your knights demanding a pay increase, or even a meteor strike that takes out half your town can force you to reload the game from several levels back. The worst one of the bunch is when the High Chancellor finds your ATM card and steals a huge chunk of change from your bank account. In a game where money can spell the difference between moving to the next level and being sent to debtors' prison this seems rather cruel. The Horde offers a lot of accessories to help you in your fight but most are too expensive and offer very limited value. The knights and archers cost way too much money to justify using more than one or two of them and they can only protect a few inches of screen real-estate. The dopey dragon sounds like a great investment and indeed he can spray fire from above like some kind of medieval air strike. With perfect timing and luck this will take out one or two of the baddies but it will usually take out several of your buildings and livestock in the process. The economics of the game are cumulative so that money earned from one level can be carried over to the next. This is fine but it will stump new players when certain purchases early on will prevent them from buying what they really need further down the line. This can become rather tedious forcing a reload from several level back so that they can save and earn more money.

The Bottom Line
A fun and inventive game that is only hampered by its control and saving system. A few small changes in game balance could have made this a classic. If you can find it I suggest you try it out.
DOS · by saladpuncher (22) · 2003
Distress from who's coming to dinner!

The Good
The different type of Hordlings each have their own style of attack - big,brawny, and straight-ahead; hop-skip-and-spin around, teleportation (!), etc. One strategy won't see you all the way through this story, so it doesn't turn into more-of-the-same quickly.
Your performance in a given encounter determines what you have available in the next, so there is real incentive not just to survive, but to do it with class. If you do well, you can buy some help that will ease your load, but even the biggest, baddest purchase (a dragon as ally) won't carry the load for you. You still have to be good with your sword and run immediately to threatened parts of your village. Save the cows first!

The Bad
The economics are loaded against you. Not only can the Horde kill you or eat you out of house and home, but the evil High Chancellor is ready to increase your taxes and render you unable to meet the next wave of Hordlings. You might even beat the Horde and wind up in debtor's prison!
Another gripe is that the items you can purchase to enhance your defense simply take too long to deploy or convey too little benefit. When a dozen Hordlings converge from all over the map, there's no time to don your Boots of Boogie; you have to be looking for the one that is the biggest threat.

The Bottom Line
Wildly original and different game, lighthearted, and fun. You'll fairly quickly reach a level you can't get beyond, because the interface gets in the way.
DOS · by Professor (105) · 2002
Trivia
3DO version
The original release of the 3DO version contained a bug that erased all other save data on the hard drive when a Horde game was saved. Crystal Dynamics offered to exchange the discs when users mailed in their defective copies.
Accident
The game makers almost ended up killing one of the game's actors (for real). In one FMV scene, the actor who plays the High Chancellor was supposed to eat a metal key (to reveal he wasn't really human). In order to do this a prop key was constructed out of chocolate sprinkled with cinnamon. Just as the actor was about to bit into the "key" he realized the prop men had made it out of chocolate, which it turns out he was fatally allergic to. The scene was later shot using a key made of carob instead.
Actors
Actors on the short list to play the main character in the FMV sequences included Jim Carrey and Michael "Kramer" Richards before they were household names. Jim Carrey managed to score a breakthrough movie deal instead, and Michael Richards was an animal rights activist who objected to the depictions of cow killing in the game. Kirk Cameron eventually got the role.
Cover
The box cover is designed to be a ravenous Hordling's mouth that actually opens and closes. Doesn't fit that well on the shelf, but it is attention-drawing!
Mail Order Monsters
This game is prefigured in a sense by 1985's Mail Order Monsters nine years earlier, which Paul Reiche III also worked on. In that game, one campaign mode is entitled "The Horde", with a goal of dispatching a large array of relatively trifling opponents with great rapidity.
Awards
Computer Gaming World

June 1994 (Issue #119) – Best On-Screen Performance (for Michael Gregory in his role as chancellor)
June 1994 (Issue #119) – Best Muscal Score
November 1996 (15th anniversary issue) – #8 Most Memorable Game Villain (Kronus Maelor)
Information also contributed by Alan Chan, Pseudo_Intellectual and Vance
Contribute
Are you familiar with this game? Help document and preserve this entry in video game history!