Space Invaders
aka: Space Invaders EX , Space Invaders X
(prices updated 9/23 8:26 AM )
In 1978, Earth successfully repulsed an invasion from outer space thanks to "the Tank." The Tank was based on alien technology found when a scout ship had crashed years earlier. Now, over 20 years later, a new Tank has been created based on the technology recovered during the 1978 invasion. And none too soon, because the Invaders are back!
Space Invaders is yet another classic arcade game remake by Activision (see Battlezone and Asteroids). But this time, Activision licensed a game from Taito instead of Atari. The game stays close to its roots while adding many power-ups and enemies.
You can play either one or two players against the Invaders, who march down the screen in orderly rows and columns, at one of three skill levels. You'll start at Pluto and work your way through the Solar System to Mars, then Venus, and finally Earth. There are four common aliens (red, green, blue, and yellow), plus seven more less common ones. You receive special one shot power-ups by shooting four of the same type of Invaders in a row. As in the original game, there are also Mother Ships that fly above the action, but in this version if you hit them you can pick up other useful power-ups like shields or double shots. Plus, after fighting off several waves on each planet, you'll face a unique boss. If you manage to finish the game, you'll be able to play a reproduction of the original coin-op.
Spellings
太空侵略者 - Simplified Chinese spelling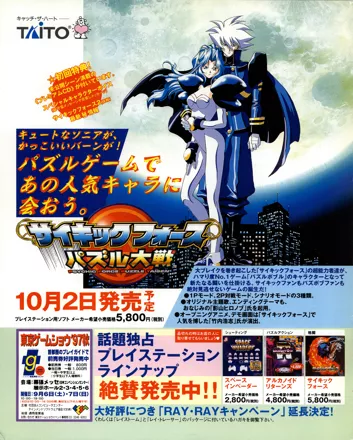 Credits (Windows version)
98 People (71 developers, 27 thanks) · View all
Design
Programming
Additional Programming
Music / Sound Programming
Libraries / Utilities
Graphics / Artwork
Additional Graphics / Artwork
Music
Production
Art Director
[ full credits ]
Critics
Average score: 56% (based on 40 ratings)
Players
Average score: 3.8 out of 5 (based on 37 ratings with 1 reviews)
Want Puzzle-Vaders? Look here.

The Good
Normally you'd think that an updated modern remake of an old classic like Space Invaders would be 100% flash and 0% substance. I certainly thought that when I saw the commercials and started playing the game for the first time. But the designers of this remake added two interesting twists that turns this Space Invaders game into a real-time puzzle game.
Yes, a puzzle game. Consider the following new twists:
Powerups. Shoot four aliens of the same color in a row and you receive a one-time powerup. These powerups can eliminate an entire row, column, diagonal row, release a slow-moving acidic ball, etc.
Different formations. Each wave of aliens is arranged differently in a deliberate pattern.
Since the aliens are in a different configuration each time, you find yourself trying to solve simple puzzles while the game is playing, like specifically trying to shoot four yellow aliens in a row so that you can get the diagonal powerup so that you can eliminate diagonal rows of similar yellows aliens so that you get the powerup again, ad infinitum.
It's like Super Puzzle Fighter, Super Tetris, or Puzzle Bobble--except the "pieces" fight back.

The Bad
The big complaint is shoddy programming. The game lists that a Pentium 166 is the bare minimum for software rendering if you don't have a 3D accelerator. Yes, this entire game is programmed in 3D. Since 99% of this game employs no obvious 3D effects, I am baffled by this decision. And even if 3D were a gameplay requirement, why would a Pentium 166 be the minimum? What, 3D 320x200 software rendering isn't possible on a 486?
Also, the end-level bosses are token and fairly frustrating to beat if you don't have the double-shot powerup. I kept feeling that they were unneccesary (but then again they break up the gameplay, so maybe I was just frustrated).
The music is a slight disappointment, consisting of short looped sections of sound, which start to grate on your nerves after a while.

The Bottom Line
An interesting remake of a classic game. I hate to admit it, but it's fairly addictive. (Yes, that's a good thing.)
Windows · by Trixter (8947) · 1999
Trivia
Extras
The first copies of Space Invaders included a free copy of the Asteroids CD.
Setting
The year 1978 was used in the storyline for the original invasion because that's when the arcade game was released.
Contribute
Are you familiar with this game? Help document and preserve this entry in video game history!