FIFA Soccer Manager
aka: FSM
FIFA Soccer Manager is EA's first venture into the market of football managers. With a line-up of twelve leagues in five different countries (England with four divisions and Germany, Italy, France and Scotland with two). The calendar follows realistically how the competitions develop, so expect a Winter break in Germany, a September league start in Italy and many weeks with double fixtures in France. The database, composed by over 7500 players, also includes some European sides, and the three European competitions are present.
Managers can improve their team by training them or simply acquiring new talent to the line-up. While the game misses pre-defined tactics, each player can be assigned to a position freely. It's also possible to set team orders, style of play and change the coverage of each position.
One of the key features is the stadium builder. With it, it's possible to customize the stadium block by block, instead of the usual stand by stand. Over 300 individual pieces, from stands to roofs can be used to build different stadiums. The total of seats are defined by the initial size of the club, some of them able to build stadiums with over 400'000 seats. Different kinds of stands also allow for more concessions (stores inside the stadium) to be built.
Games can be instantly generated or seen with an isometric 2D engine resembling the 16-bit FIFA games. Not only players follow their orders and suit their positioning correctly, but the state of the pitch graphically displays exactly how well have you been treating it and there are empty seats showing if there isn't a full crowd. It's also possible to save a full match and review it later.
Spellings
FIFA足球经理 - Simplified Chinese spelling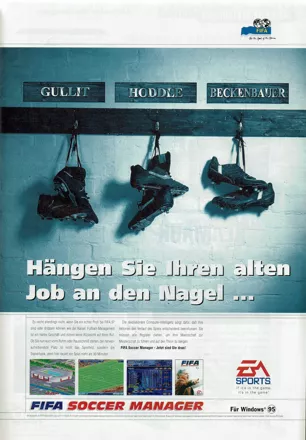 Credits (Windows version)
130 People (124 developers, 6 thanks) · View all
Executive Producer
Associate Producer
Assistant Producer
Original Concept & Design
Lead Programming
Programming
Additional Programming
Art Director
Graphics / Artwork (Menu)
Graphics / Artwork (Stadiums & Buildings)
Additional Graphics / Artwork (Stadiums)
Video Sequences
Technical Effects
Audio Producer
Sound Programming
Music
Sound
Database Management & Search
[ full credits ]
Critics
Average score: 62% (based on 11 ratings)
Players
Average score: 3.2 out of 5 (based on 10 ratings with 0 reviews)
Be the first to review this game!
Trivia
Cover
José Mourinho, who appears on the international cover of TCM 2005, made his first appearance on a cover in this game. While not featured as he would be ten years ahead, he appears on the back of the box left side of Bobby Robson in a photo taken during Robson's tenure at FC Porto, where he worked as a manager and Mourinho as his interpreter.
Engine
While quickly forgotten, FSM includes some interesting touches in the game engine:* The quality of the grass and number of supporters (or empty seats) in the crowd during matches correspond to the current state of the pitch and the actual number of tickets sold. * With very low attendances, only a few people are visible, and instead of the usual crowd roar, there are only a few heckles and claps here and there. If a stand is being constructed, only the structure is visible. * In one of the random events, the midfield dynamo gets burns after bleaching out his hair, and if you see one of the matches following his recovery, his hair is actually bleached.
Related Sites +
FIFA Soccer Manager Online
The first and definitive fansite about FSM. Includes interactive screenshots, editing tips, hints and scenarios.
Contribute
Know about this game? Add your expertise to help preserve this entry in video game history!