Harvest Moon: Save the Homeland
aka: Bokujou Monogatari 3: Heart ni Hi o Tsukete, 牧場物語3~ ハートに火をつけて
Moby ID: 6325
The first Harvest Moon game for the PS2 takes a little deviance from all the other games in the series. The goal this time around is to save your town from being turned into a resort next year. The game focuses more on relationships than making money - which is the goal in all other Harvest Moon games to date. You still are running a farm and must succeed in the life of a farmer, but the actual gameplay rewards those who interact with the townspeople over those who just work the fields.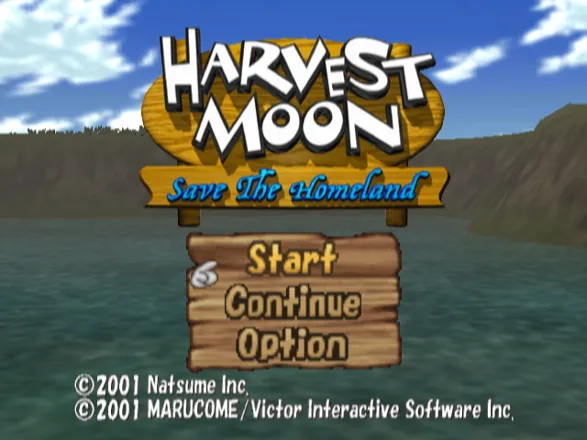 Critics
Average score: 76% (based on 7 ratings)
Players
Average score: 3.6 out of 5 (based on 12 ratings with 2 reviews)
The Good
This was my first-ever experience with a cell-shaded game...(and a Harvest Moon game!) I always tried to stay away from them (I guess I always found them too cartoonish), but this was one incredibly fun and well done, and was, well, very cute.
There are so many options for running your farm, and that's great for people who love open-ended games. You can choose how you want to schedule your day, and what you would like to do with the rewards of all your hard labor: sell, give away, or use as ingredients for cooking once you obtain a kitchen. That kind of free-choice is so fun for people who like to be able to "choose their own adventure" and just want to turn on a game and relax. Also, you get to name the animals you bring to your farm/breed and you eventually get a horse!
Outside of the farm, you can make friendships with the citizens and even take on part-time work to make some extra cash. It's adorable how, to get females to like you, you can find out what kind of sweets/gifts they enjoy and give them to your crush...and see a heart pop up when their affection rating goes up! The dialogue changes frequently and that kept me interested and actually wanting to complete tasks to see what they'd say next. (And if you give a flower to a guy, watch what happens!) I enjoyed that because relationship-oriented games are a refreshing change from the action/survival horror ones I usually play.
As for the plot, you have a year to save your farm before the whole area is bulldozed to the ground for commercial reasons. Several methods to do so are given to you as you develop relationships with the townspeople, and that is how you can choose your ending.
Talk about choices!
I thought the graphics were cute and the stories were well planned out. The complexity of the plot makes this game great for teens and adults, though the graphics belie that description.
I spent hours on this game, and I don't normally do that for games I don't like. There's so much to do that it has tons of replay value, and that is a definite plus.


The Bad
I thought that the game shouldn't have given you so many choices (almost at once) for an ending. Once you fulfill certain criteria for an ending, you will trigger a cutscene and follow the instructions for completing your next task. However, if you fulfill the criteria for ANOTHER ending, you also get the CS for that, and so on and so forth. I got a little confused trying to complete every different task my first play through and wound up not completing anything, and lost! I can see that this is a good thing for people to have their way of finishing the game, but perhaps it should have been limited to 1 or 2 choices for an ending during any given play through.
Also, the music got a little redundant and was mostly unnecessary, except for ambiance. But what was nice about the sound was that it changed during the weather/seasons, and that was very creative.
Your character also never gets to speak (save for several times) and never actually has any dialogue with the other characters. You communicate with other characters via hand gestures and facial expressions. It would have been nice to hear your own thoughts, but I guess that was another part of the open-endedness of the game.
Controls were tricky sometimes. Trying to water your plants was tough, because you had to be lined up just so to make sure your water hit the right spot on the grid, and if you miss, you end up wasting water and precious energy. The camera angle for that part of the game didn't help, either.
Since I mentioned energy before, let me explain: I have never seen a person get so tired so quickly before! That was the biggest downfall of this game. Until you obtain "power berries" to buff up your energy, you get tired incredibly quickly. If you spend some time moving your chickens around and watering plants, by the end of that (usually only 2 game hours), you're exhausted. Getting power berries was also not very easy, so you spend a lot of time tired until you get further in the game.
Also, the graphic in your inventory screen for your energy meter was a bit confusing. Your character would gesture that he was tired, but your indicator would say otherwise. This sometimes made it difficult to complete tasks, which causes either your plants to die or your animals to get sick.


The Bottom Line
Very fun and worthwhile to play and buy. You'd definitely want to purchase it, as the play time is extensive and I spent a year on this game (off and on) and still haven't gotten all of the endings.
Since I'm new to the series, others who have been following it faithfully may say otherwise, but I loved it! I thought it was fun and endearing, but it's not for those who are a fan of adventuring or shooting things up.
PlayStation 2 · by Kitty Says Meow (18) · 2007
The Good
The Harvest Moon series is a chain that I have just recently dived into. This game was the first that I purchased, specifically. Now, I am a full-time fan. It has been known to be one of the least original games in the series, but the captivating storyline's charm is still there. This time around however, you are required to interact more with the townsfolk, and less working on your farm than in previous titles. But with 9 different endings, and 4 lengthy seasons, you should give this "legend" a try!

The Bad
My one flaw with this game may be minor in size, but you too will hate it if you buy this game. There simply ISN'T ENOUGH TIME TO SPEND IN THE WINTER SEASON! You only have a year in all, and winter is the final month. This means that you don't get to enjoy the crisp coldness, of enjoy "ice-fishing" enough. Nevertheless, it is STILL a good game.

The Bottom Line
(see my "What You Liked" paragraph above).
PlayStation 2 · by Ian Perreira (2) · 2004
Contribute
Are you familiar with this game? Help document and preserve this entry in video game history!