Razor Freestyle Scooter
aka: Freestyle Scooter
Moby ID: 6372
Razor Freestyle Scooter is an extreme-sports style action game modeled around small, nimble scooters. In contrast to most games of this type, there is a story. A crazed giant robot has kidnapped your skating buddies. By completing skating challenges at the robot's sky fortress, you must rescue your friends.
You skate around 3 large areas and attempt to perform wild tricks, collect scooter wheels, and earn bonus time. By completing an objective on all 3 areas, you unlock a sky fortress level in which you can rescue a new skater to control.
Gameplay is based heavily on the Tony Hawk series of games. Tricks consist of button and direction presses, and can be strung together with grinds to create high-scoring combos.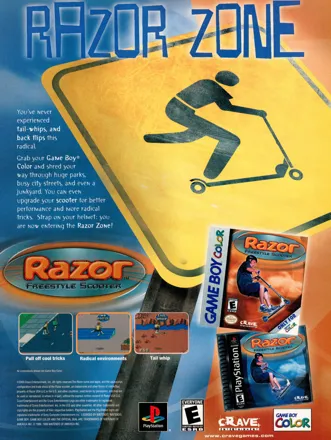 Credits (PlayStation version)
62 People (47 developers, 15 thanks) · View all
Critics
Average score: 54% (based on 17 ratings)
Players
Average score: 3.4 out of 5 (based on 13 ratings with 0 reviews)
Be the first to review this game!
Trivia
Credits video
One of the most entertaining parts of Razor is the credits video, which is an option on the main menu. It consists of 4 people dressed up as a bear, a bunny, an alligator, and a gorilla. The alligator chases the bear and bunny around a city street, until the bear and bunny purchase Razor Scooters from the gorilla. Then they take advantage of the newfound speed to torment the alligator. Somehow the alligator gets a scooter as well, and they all team up to chase after the gorilla. And finally, we get to watch the bunny's visit to the barber shop. Crazy stuff.
Contribute
Are you familiar with this game? Help document and preserve this entry in video game history!