Hill Street Blues
aka: Hill Street Blues: The Computer Game
Hill Street Blues is a top-down action / strategy mix.
"Let's be careful out there!"
Based on the '80s TV drama series Hill Street Blues, this game puts you in the role of Captain Furillo of the Hill Street police department. Crime rates are soaring in the precinct, and it's up to your team of nine officers (all well-known from the series and with digitized portraits) to keep the streets safe.
Your officers move on foot or by car on a 2D top-down map of the city, complete with real-time traffic. True to the series, each day starts with a roll call from Sgt. Esterhaus. Once on duty, listen to radio operator A.J. Hill report crimes every few minutes. Deploy officers to the scene, help the victim and call an ambulance or coroner; next, identify and find the suspect. Some criminals may flee, others even shoot at you. Give chase or open fire if necessary. When the bad guy is arrested, a court trial may follow.
Hill Street Blues is controlled entirely with the mouse via a set of icons – that's everything but intuitive, especially when directing a single officer through the streets. Since there will soon be multiple crimes all over the city, the challenge is to co-ordinate multiple officers simultaneously and keep track of cases and suspects. If your success rate is high enough, you will ultimately be promoted to chief of police.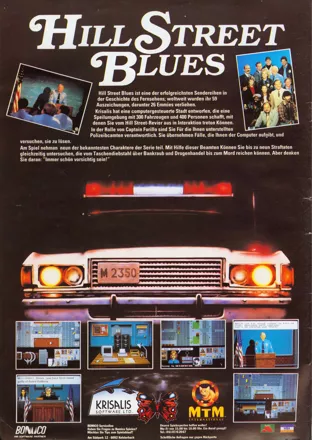 Credits (DOS version)
8 People
| | |
| --- | --- |
| Design | |
| Additional Design | |
| Programming | |
| VGA intro Programming | |
| Graphics | |
| Playtesting | |
| Adlib Effects | |
Critics
Average score: 70% (based on 11 ratings)
Players
Average score: 3.5 out of 5 (based on 20 ratings with 0 reviews)
Be the first to review this game!
Trivia
Cancelled Spectrum version
Your Sinclair magazine mentioned that a Spectrum version was due, but this appears to have never been released, as it's one of the few games from a company of any size that www.worldofspectrum.org have not found a copy of.
Hill Street Blues
Hill Street Blues may be the best TV show that nobody knows. First aired in January 1981 on NBC, the drama series about the personnel of a downtown police station and their struggle in a hostile urban environment scored ratings so bad that the program ended up in the ranking's bottom five.
At the same time, Hill Street Blues earned exceptional critical praise for its experimental and daring style: interweaving of multiple plot lines, noisy and aggressive setting, a multitude of cast members that came and went (yet with focus on characters' relations and emotions), quick pace and hand-camera authenticity. Hill Street Blues was as real-life as TV shows got – and in many respects paved the way for hits such as Emergency Room. Consequently, it swept the '81 Emmy Awards with 21 nominations and eight awards.
The critical acclaim saved the series from cancellation. NBC continued to air Hill Street Blues as show-piece and "quality programming" fig-leaf – mainly because it attracted a select audience. The series ran for seven seasons, slowly climbing in the ratings, but never a favorite. It ended in May 1987 with episode 146.
You can find more information about Hill Street Blues in the links section.
Information also contributed by Martin Smith
Contribute
Are you familiar with this game? Help document and preserve this entry in video game history!