Battlezone II: Combat Commander
Moby ID: 651
The sequel to the real-time strategy/first-person action game of 1998. New enhanced graphics, immersive gameplay with all the strategy/tactical elements combined with the excitment of a first-person shooter. New vehicles, weapons and diverse landscapes.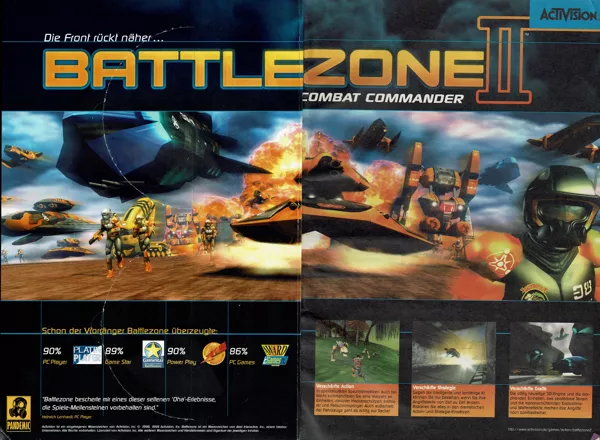 Credits (Windows version)
172 People (88 developers, 84 thanks) · View all
Director
Lead Design
Level Design
Additional Design
Additional Writing
Programming
Art Director
Lead Artist
Texture Painter
3D Modelers
Conceptual Art
CEO, Pandemic Studios
President, Pandemic Studios
Associate Producer
Producer
Production Testers
Production and Technology Coordinator
[ full credits ]
Critics
Average score: 79% (based on 34 ratings)
Players
Average score: 3.8 out of 5 (based on 21 ratings with 1 reviews)
...a FPS and an RTS? In the SAME GAME?

The Good
...and that's what it is. Imagine something like Starcraft, for example... a real-time strategy game that involves locating resources, setting up installations to use those resources and crank out units, all while defending your installations from a relentless alien enemy. Well, that's what you'll do in Battlezone II.
...but wait. Instead of the overhead or isometric view we're all used to from Starcraft, Warcraft, or Age Of Empires... you play THIS game from the point of view of ONE OF YOUR UNITS... and if the "you" unit is killed, that's it, game over! Meanwhile, you run frantically around, directing units and installations from ON THE GROUND, rather than the usual godlike overhead perspective (although you do have a mini-map to work with). A nice addition is the fact that when you climb into various vehicles, you become that new vehicular unit, and you'll be operating a variety of vehicles in the course of the game...

The Bad
It's a strange mix, and while at times it was wonderfully fun, at other times it was mindbogglingly frustrating. What, those idiot troops of mine can't hold the frackin' base while I'm supposed to be out here, sniping at aliens? Trying to be everywhere at once with an overhead perspective is WAY easier than trying to be everywhere at once when you have to run your little legs off all over the battlefield...

The Bottom Line
It's fun. It's interesting. It's frustrating at times. It's available now at bargain prices, so go and see for yourself...
Windows · by Dr.Bedlam (55) · 2002
Trivia
Unofficial patches
Almost ten years after its release, the game was still updated with unofficial patches, by Ken Miller and Nathan Mates, developers of the original version, in their spare time.
Contribute
Are you familiar with this game? Help document and preserve this entry in video game history!