Phantom 2040
Moby ID: 6658
The cartoon mini-series: Phantom 2040, right here. It is the aforementioned year, 2040, and the city of Metropia is in total chaos.
Crime, smuggling and terrorism are escalating. The debase company, Maximum Inc., has invented biotechnology that is threatening to mess about with nature - causing animal extinction and ecosystem adulteration. Evil company owner, Rebicca Madison, would like to rule Metropia and the world.
In comes Kit Walker, the 24th Phantom, following the proud but secret footsteps of his ancestors. This 18 year old has to fight his way to get things right, or end trying.
The game has many twist and turns in its plot, and a multitude of endings.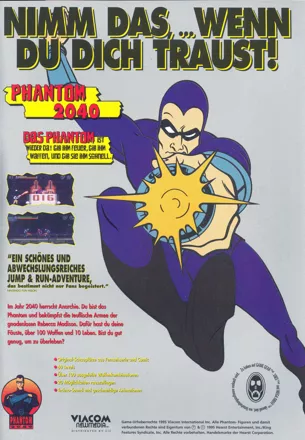 Credits (SNES version)
57 People (16 developers, 41 thanks) · View all
Lead Programmer
Additional Programming
Producer
Lead Designers
Additional Design
Lead Artist
Art & Animation
Story Editor
Music & Sound Effects
Sound Driver by
Quality Assurance, Lead Tester
Quality Assurance, Additional Testers
New York Managing Producer
New York Project Coordinator
Special Thanks To
[ full credits ]
Critics
Average score: 73% (based on 13 ratings)
Players
Average score: 3.6 out of 5 (based on 24 ratings with 0 reviews)
Be the first to review this game!
Trivia
Inspiration
Phantom 2040 is based on the cartoon series of the same name, which was an early Batman Beyond-like adaptation of the classic Phantom character set in the future.
Created by the legendary Lee Falk and first appearing in february 17th, 1936, The Phantom started his many adventures to rid the world from piracy and evildoers following the footsteps of his ancient lineage as the 21st "Walking Phantom" in the world. In practically no time Falk's newest creation rose to world fame under the King Features Syndicate banner, which placed it in tons of newspapers around the world (Falk was already a major-league player from his earlier success: Mandrake the Magician, and thus commanded true star treatment from his publishers) and remains to this day a well-known classic of comic book history.
The character also made the leap out of the comic books many times, with a collection of 15 serials in 1943 from Columbia Pictures, an animated series in 1986 (along Flash Gordon and Mandrake) as well as a motion picture starring Billy Zane in 1996 by Paramount (besides the aforementioned Phantom 2040 animated series which had the particularity of being helmed by Peter Chung of Aeon Flux fame). So far this is the only videogame adaptation of the long-running franchise.
Contribute
Are you familiar with this game? Help document and preserve this entry in video game history!