Super Star Wars: The Empire Strikes Back
aka: Super Star Wars: Teikoku no Gyakushuu
Moby ID: 6696
The sequel to Super Star Wars is, as the name implies, based on Episode V: The Empire Strikes Back, the second of the original Star Wars movie trilogy. The game features familiar locations and events from the film, such as the ice planet Hoth, the search for Yoda on the jungle planet Dagobah, and the fight against Darth Vader. Several locations are expanded, adding places and boss enemies that did not exist in the movie, and certain key events in the story are omitted or changed.
As in the previous game, the player is able to control three characters: Luke Skywalker, Han Solo, and Chewbacca. Unlike the first, each character has been given a distinct special move. Chewie spins a path of destruction through enemies, Han has grenades and a powerful slide, and Luke can switch to his lightsaber and block oncoming fire. Gameplay is very similar to the first game, mostly focusing on platforming elements. As before, there are Mode-7 vehicle levels, during which the player is able to pilot a snowspeeder against encroaching Imperial walkers, pilot the Millennium Falcon through the asteroid field, and break through Cloud City's defenses in Luke's X-Wing fighter.
The game's other major addition is the inclusion of a suite of Force powers for Luke. They are learned by collecting hidden orbs on the Dagobah level, and add a second special bar that depletes with each usage of a Force power. Power-ups include health items, weapon upgrades, screen-clearing detonators, and orbs that restore Luke's Force power. Passwords have also been added, and are given upon completion of each of the game's 25 stages.
Spellings
スーパースターウォーズ帝国の逆襲 - Japanese spelling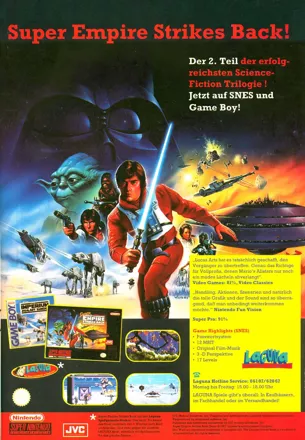 Credits (SNES version)
23 People (22 developers, 1 thanks) · View all
Direction and Design by
Art Supervisor
Animation Supervisor
Art and Animation by
Associate Producer
Lead Tester
Marketing Manager
Public Relations Manager
Produced by
Special Thanks to
Programmed by
Music and Sound-Effects arranged and performed by
Art and Animation by
Additional Programming by
Project Management by
[ full credits ]
Critics
Average score: 77% (based on 28 ratings)
Players
Average score: 4.0 out of 5 (based on 37 ratings with 1 reviews)
A long time ago, in a Galaxy far, far away.....Super Empire Strikes Back!

The Good
This game is a HUGE improvement over the original game. More levels, more characters, better graphics, everything is better! This game improves the controls over the original, mainly allowing you to do the "double jump" without having to hold the D-pad up as you do it. True to the films story you can use force powers in this one. The bosses are very creative and fun.

The Bad
There isn't much wrong with this one although the first few levels are very bland and boring snow levels. Though easier than the first installment this game can get very hard sometimes.

The Bottom Line
A great improvement over the original. Again check this out!
SNES · by MegaMegaMan (2257) · 2004
Trivia
It was named Super Nintendo Game of the Year in the 1993 GamePro Editors' Choice Awards (Vol. 6, Issue 2)
Contribute
Are you familiar with this game? Help document and preserve this entry in video game history!