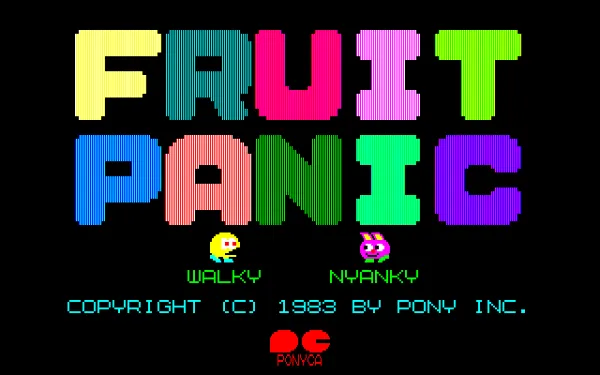 Released

Credits

Releases by Date (by platform)

Publishers
Moby Score

n/a

Collected By

1 players
MSX Specs
[ all ]
---
Business Model

Media Type

Input Devices Supported

Number of Players Supported
Description
Fruit Panic is a platform game with some similarities to Mappy, albeit single-screen like Bomb Jack. Controlling Walky, a yellow ball with legs, you must pick up all fruit strewn across the platforms, while hunted by the Nyankys. Walky can't jump between platforms, so the only way to reach another platform, and more fruit, is to walk off the platform and go to one of the trampolines placed on the left and right of the screen. During his walk, Walky is a prone target for the Nyankys, who will hunt him from all directions. Walky's only defence is to drop on the head of a Nyanky, and his ability to lay bombs, of which he has a limited supply. Only one bomb may be laid at any time, preventing you from covering the screen in bombs. Jumping too many times on the trampoline will make it burst, costing Walky one life. When all fruit are picked, the game proceeds to the next level, with new platforms and another kind of fruit.
Fruit Panic has been remade in 1990 as the Game Boy game Tasmania Story.
Spellings
フルーツパニック - Japanese spelling
Contribute
Are you familiar with this game? Help document and preserve this entry in video game history!
Contributors to this Entry
Game added by Игги Друге.
Game added August 5th, 2014. Last modified February 22nd, 2023.