Kinect Sports: Rivals
Moby ID: 67915
Kinect Sports Rivals is the third game in the Kinect Sports series and the first game for Xbox One. Just like the previous games the player gets to compete in a number of sports using the Kinect peripheral to experience the action through motion based control. The included sports are bowling, jetski racing, rock climbing, soccer, target shooting, and tennis. Of these, bowling, soccer and tennis were already present in a previous game. The game is set on a tropical island where the sports are introduced by a sergeant and then unlocked one by one. You can compete in the island league against other teams and complete story missions to earn fans and level up. Fans act as a currency to acquire outfits, equipment, stages and special moves.
In jetski racing the player opens a hand to let off the gas and then makes a fist to accelerate. Steering is done as is holding invisible handle bars, pulling left or right back, along with leaning for sharp turns. While racing opponents jumps can be performed and mines needs to be dodged. In rock climbing the player needs to reach out to grab a ledge, grab and then pull down to lift the character up. There are various hazards such as gusts of wind and electricity that need to be avoided. You can also attempt to pull down opponents and vice versa, and jump to trigger an upwards leap. Football has been reworked to resemble table soccer or foosball. Just like the earlier version the player needs to pass to reach team mates and then line up a shot, but team mates now move horizontally at a constant speed so passes need to be lined up precisely. In target shooting you compete directly against an opponent and you point a finger to control a cross-hair. No trigger motion is used, instead you pause briefly over a target for the shot to register.
The new version of the Kinect peripheral offers more precise control, as opening or closing a hand would for instance not be recognized by the first generation Kinect. While in previous game you could play with your Xbox avatar, in this version Kinect is used to scan you and generate a digital version of yourself based on facial features, skine tone, hair and accessories such as glasses. Next to offline and online multiplayer there is asynchronous multiplayer where other players' performances are downloaded and slotted into your own competition. It is also possible to send challenges to other players from the main island hub.
Spellings
Kinect 体育竞技 - Simplified Chinese spelling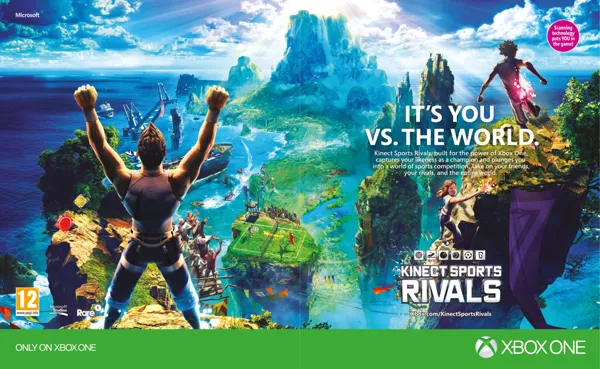 Credits (Xbox One version)
775 People (709 developers, 66 thanks) · View all
Critics
Average score: 60% (based on 21 ratings)
Contribute
Are you familiar with this game? Help document and preserve this entry in video game history!
Contributors to this Entry
Game added by Sciere.
Additional contributors: Rik Hideto, Kennyannydenny.
Game added August 21st, 2014. Last modified October 1st, 2023.