ActRaiser 2
aka: ActRaiser 2 - Chinmoku heno Seisen, Actraiser 2
Players control "The Master," a god-like spirit sent down from the heavens, and fight to eradicate evil from the land. This sequel to ActRaiser focuses entirely on the side-scrolling action of the original, and has 14 levels with new monsters, new abilities, and new super powers.
You still control a "Cloud Palace" across a zoomable map of the world, choosing your next area of battle. In addition, many of the sound effects from the original game make their reappearance, as well as some hidden RPG elements.
Changes from the original ActRaiser include the elimination of the village-building mode, a move from a battery-save to password-save system, and a new musical score.
Spellings
アクトレイザー2 沈黙の聖戦 - Japanese spelling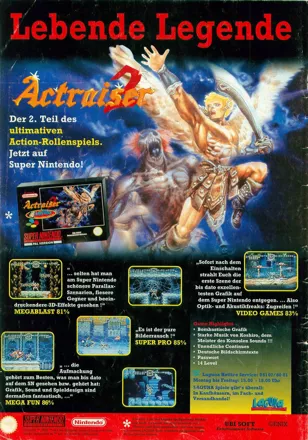 Credits (SNES version)
50 People (48 developers, 2 thanks) · View all
Main Director
Scenario Director
Art Director
Main Programmer
Object Programmer
Scenario Writer
Script Writer
Scroll Designer
Object Designer
Assistant Designers
Sound Composer
Test Players
[ full credits ]
Contribute
Know about this game? Add your expertise to help preserve this entry in video game history!