Smashing Drive
aka: Crazy Taxi, Smashing Drive NYC - II x M
Moby ID: 7085
Smashing Drive puts you in the driver's seat of an insane, outrageous taxi on the busy streets of New York City. Your job is to simply race from point to point in the fastest time possible.
The key to success in Smashing Drive lies in two features: crazy power-ups and hidden shortcuts. Almost all of the power-ups transform your taxi in some way that allows you to smash your way through traffic with ease. And the shortcuts usually involve crashing through the insides of buildings, like movie theaters and sports arenas.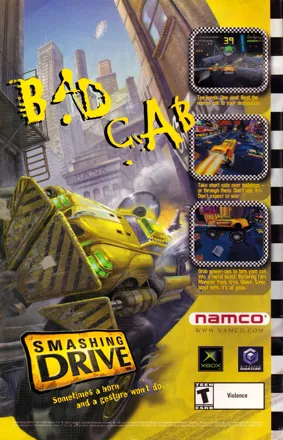 Credits (GameCube version)
52 People (41 developers, 11 thanks) · View all
Producer
Assistant Producer
Lead Programmer
Programmers
Engine Programmer
Artists
Sound Engineer
Voice Artist
Special Thanks

Liz and Debs
UCLA Ron
Fat Jimmy
Taco Buddy

Producer
Special Thanks
Technical Director
[ full credits ]
Critics
Average score: 46% (based on 19 ratings)
Players
Average score: 2.7 out of 5 (based on 10 ratings with 1 reviews)
Crazy Taxi with much more smash and crash and racing.

The Good
It was very east to learn how to play. You just run into everything until you figure out how to beat the clock. It is easy to control. And easy to learn the best way through a level and find some shortcuts along the way. After an hour drive home from work 10 miles away sometimes it's nice to take out frustrations by a little road rage. It is the kind of game usually gets overlooked so used copies are a great bargain.

The Bad
You do have to keep repeating levels over and over again until you learn the shortcuts. It seems you need to find them to complete some levels even if avoiding other vehicles and making the best time possible.

The Bottom Line
It is a combination of many existing racing action games. Jump in your demon taxi and plow your way through downtown streets looking for wild powerups and secret areas. It is an excellent 2 player split screen race. Excellent cartoonish mayhem for kids even.
GameCube · by gametrader (208) · 2003
Trivia
Working title
According to the description of a video of the original arcade version uploaded to YouTube (Ed. note: Now removed alongside the channel's other videos) by Javier Arrebola, the game's designer, Smashing Drive was going to be called Crazy Taxi, but a game with the same name was released by Sega, so they changed the name.
Contribute
Are you familiar with this game? Help document and preserve this entry in video game history!