Godzilla: Destroy All Monsters Melee
Aliens have invaded earth, bringing with them a collection of deadly monsters bent on the destruction of the land they stand on. You must destroy each of the beasts and send the aliens packing, while also looking after yourself from the humans who want all beasts dead.
Choose from a host of classic Godzilla monsters including the 90's and 2000 version of the beast himself plus Megalon, Anguirus, King Ghidorah, Gigan, Rodan, Mecha-King Ghidorah, Destroyah and Mechagodzilla.
Battle in a range of modes including Adventure (destroy each of the beasts in turn in a collection of city locations), Destruction (destroy the city as much as you can), Survival (defeat as many beasts as possible on one health bar), Team Battle (beasts pair up into teams to tackle each other) and the multiplayer 'Melee' mode where up to four players can battle it out as their fav monster.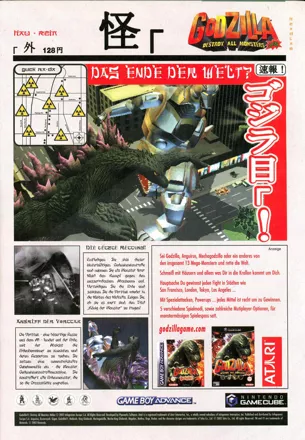 Credits (GameCube version)
102 People (75 developers, 27 thanks) · View all
Godzilla Development Team
Additional Work By
[ full credits ]
Trivia
Cancelled PS2 version
There was originally going to be a version of this game made for the Playstation 2 that eventually got cancelled.
Title
Just like "Super Smash Bros.: Melee" and its classic version "Super Smash Bros." released on N64, Godzilla: Destroy all Monsters Melee had an original version for the Super Nintendo, without the word Melee in it (Unfortunately, it was never released in the U.S).
Contribute
Know about this game? Add your expertise to help preserve this entry in video game history!