Lexi-Cross is a TV show simulation based on elements from Wheel of Fortune and Scrabble in a humorous futuristic setting. Competing either against other living creatures (humans, aliens) or against robots, you must flip the tiles and use the revealed letters to form the correct words. The game features more than 600 puzzles.
Spellings
Lexicross - Common alternate spelling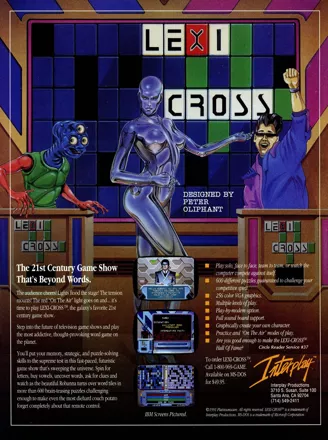 Credits (DOS version)
16 People (14 developers, 2 thanks)
| | |
| --- | --- |
| Design | |
| Programming | |
| Additional Programming | |
| Music / Sound Programming | |
| Graphics / Artwork | |
| Music | |
| Art Director | |
| Producer | |
| Associate Producer | |
| Puzzles | |
| Special Thanks To | |
Critics
Average score: 77% (based on 4 ratings)
Players
Average score: 3.8 out of 5 (based on 13 ratings with 2 reviews)
A great blend of Wheel of Fortune, Scrabble and your local Crossword Puzzle

The Good
I picked up Lexi-Cross years ago, not knowing what it was. I was in for a shock!
I love this game... It combines Scrabble (The TV SHOW not the board game), with Wheel of Fortune to make a great game.
You start with a blank board. You take turns with a computer or human player, and start revealing tiles on the board. If a letter tile is revealed, you can choose another one. If it is blank, or a negative score tile, your turn is over. Once you feel you've uncovered enough blank tiles, you can start guessing letters. Guess a letter and a "Wheel" type spin occurs and you can pick a letter. Once you have figured out some of the words, you can solve the puzzle. Solving the puzzle is not like Wheel, but is a common theme based solution. For instance, if the clues were "Cat, dog, bird, fish" the answer could be Pets.
The graphics at the time are great. Vibrant and futuristic, the game's interface shines in connection with it's graphical detail.
The sound is negligible. It's Ok, but on the whole, it's not a big factor in the gameplay itself.
The control is done using the keyboard to select tiles and typing words.
The AI in the game is very good. Setting 1 is pretty stupid, and Setting 5 is brutal, and even on the 3rd setting, the AI give you a run for your money (or credits, in this case).
The gameplay is very unique. There are over 600 puzzles to play, so it'll keep you busy for a few days.

The Bad
It run REAL fast on a Pentium 233, although using MOSLO at 50% or less helps a GREAT deal.

The Bottom Line
This is a underrated classic that really deserved more attention that it received. If you find it, keep it. It's a fantastic game.
DOS · by Chris Martin (1169) · 2000
A fun cross between Scrabble and Wheel of Fortune

The Good
I love the fact that the puzzles are theme-based - each word on the board is related to a central theme. Also, each player has the same words in his puzzle, but in different places, so you can use both your exposed letters and your opponent's to try to guess the words (although my husband hates it when I use his board!)

The Bad
If you play it on too fast a computer, it can be too fast to follow sometimes.

The Bottom Line
Similar to Wheel of Fortune, but with a wacky, futuristic twist. A lot of fun to play with a partner, but you can also play against the computer.
DOS · by Melissa Leonard (100) · 2000
Trivia
Development
According to programmer Peter Oliphant, the developers initially worked with another unnamed publisher. They received 10.000 Dollars and the publisher went bankrupt - the result was that they could use the money without obligations. After they developed a demo, Oliphant had a meeting with Brian Fargo, the head of Interplay. He was lukewarm at first, but later he almost bombarded Oliphant with phone messages with the wish to publish the game. Why? Fargo took the demo home, played it and his wife went completely crazy over it.
Opponents
The names of the opponents in the game are taken from many different areas:
AGIMA - Amiga spelled backwards
TOBOR - Robot spelled backwards
VEEGER - The cloudship from Star Trek: The Motion Picture
ROBBY - Robby the Robot from Lost in Space
ENIAC - The first computer
BABBAGE - Named after Charles Babbage, considered the father of modern computing
TURING - Helped desgin the first computer, and also helped crack the "Engima" sipher during WWII
OLIVAW - Last name of Isaac Asimov's book character
JOSHUA - Password into the W.O.P.R. Computer in the movie WarGames
C64PO - Homage to Star Wars and the C64
R3D3 - See above
ADANAC - Canada spelled backwards
FALKEN - Name of the Professor in WarGames
DANEEL - Character in Issac Asimov's novels
ELIZA - Considered the first artificial intelligence on computers
MARVIN - Either a reference to Marvin the Paranoid Android from Hitchhiker's Guide to the Galaxy, or to Marvin the Martian from Bugs Bunny cartoons.
Awards
Computer Gaming World

November 1996 (15th anniversary issue) – #132 in the "150 Best Games of All Time" list
Contribute
Are you familiar with this game? Help document and preserve this entry in video game history!