Ghoul Patrol
Moby ID: 7609
In the sequel to Zombie Ate My Neighbors players control the kids Zeke and/or Julie, who travel to different worlds and fight skeletons, ghouls, ghosts, and other demonic creatures in order to save their town from a horror exhibit that came to life.
Shooting enemies with weapons like Plasma Gun or Lobbing Smash Gun, the heroes need to rescue ten trapped victims on each level and fight the boss at the end, all the whole conserving the limited ammunition.
Spellings
グール・パトロール - Japanese spelling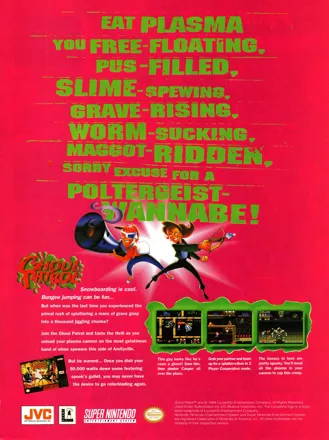 Credits (SNES version)
21 People (19 developers, 2 thanks) · View all
Programming
Map Artwork
Animation
Boss Art
Cutscene Art
Art Supervisor
Sound and Music
Mapping
Design
Direction
Lead Tester
Testers
Development Support
[ full credits ]
Critics
Average score: 72% (based on 18 ratings)
Players
Average score: 3.2 out of 5 (based on 11 ratings with 0 reviews)
Be the first to review this game!
Trivia
Development
Ghoul Patrol was marketed as a sequel to Zombies ate my Neighbors, and though the gameplay, music, and overall style are quite similar, it was actually intended as a completely unrelated game. As "Zombies" designer Mike Ebert explains:
What happened is they had another game that was kind of lost and struggling, so they changed it into "Ghoul Patrol" and called it a sequel to ZAMN in hopes that it would actually sell. It really never was supposed to have anything to do with Zombies Ate My Neighbors. I was shocked when I first saw it in the test department and the characters looked like the Z.A.M.N characters".
Contribute
Are you familiar with this game? Help document and preserve this entry in video game history!