Space Station Alpha
aka: Cylon Invasion
Moby ID: 79200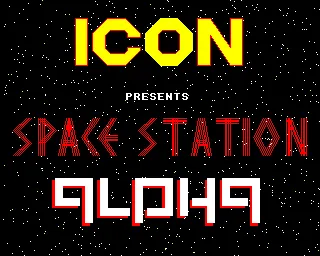 Genre

Perspective

Visual

Gameplay

Setting
BBC Micro Specs
---
Business Model

Media Type

Input Devices Supported

Number of Offline Players

[ view all 9 specs ]
Description
Space Station Alpha is a shoot 'em up where the player as the commander of the last orbiting space station has to prevent a fleet of Cylon spaceships from attacking and destroying Earth. All the action takes place on a single screen and is seen from a first person perspective. The attacking ships appear one at a time from the top right corner and launches missiles towards Earth.
The player moves a crosshair over the screen and has to shoot down the missiles or the ships before they reach the planet. It's necessary to shoot sparingly since the weapon might otherwise overheat and thereby be out of function for a few seconds. Earth has a shield rating that decreases when hit. It starts at 9,999 and when under 1,000 the planet will start glowing red indicating a near end. When it reaches zero the planet will explode and the game will end. Enemies attack in fifty waves, getting gradually faster in each.
Credits (BBC Micro version)
Contribute
Are you familiar with this game? Help document and preserve this entry in video game history!
Contributors to this Entry
Game added by Kabushi.
Game added June 7th, 2016. Last modified February 22nd, 2023.