Railroad Tycoon II: Platinum
aka: Railroad Tycoon 2: Platinum
Moby ID: 7930
Railroad Tycoon II Platinum is the ultimate edition of Railroad Tycoon II. It includes: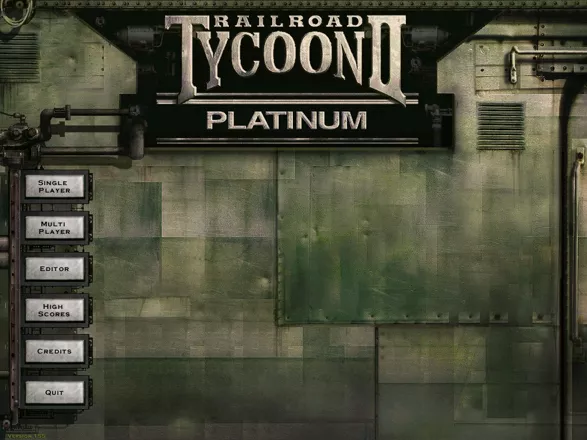 Credits (Windows version)
57 People (53 developers, 4 thanks) · View all
Game Design
Programming
Platinum Edition Programming
World Art
Interface Art
3D Art
Video
Music Coordinator
Historical Research
Scenario Design
Mapmaking
Additional Platinum Edition Mapmaking
[ full credits ]
Critics
Average score: 85% (based on 1 ratings)
Players
Average score: 4.2 out of 5 (based on 14 ratings with 1 reviews)
I'm hooked! This game is a blast!

The Good
Being my first introduction to the Railroad Tycoon series, I had few expectations, especially since I grabbed it from the price-buster bin at Comp USA. This thing sat around on my desk for a month before I installed it. All I can say is "WOW", this game pak is incredible. The graphics are beautiful, the game play is excellent. I've only played one scenario (several times before I finally figured out how to make money), but I can see the great variety of options throughout.
Along the lines of the hallowed Sim City series, this is a sim game that really challenges you to think, plan and execute strategic and tactical moves throughout the entire gameplay. It's interesting, historical and a whole lot of fun.
Very highly recommended.

The Bad
So far, I haven't seen anything I don't like. It is a bit challenging to learn, but it is do-able and rewarding.

The Bottom Line
Railroad Tycoon Platinum is a compilation of the many Railroad Tycoon game offerings. Your job is to run a railroad empire. You've got money and the ability to purchase things like engines, train stations, hotels, post offices, etc,. To make a profit, you need to make these assets produce cash, which means you need to strategically connect areas on the map that supply, or demand, various goods & services that can only be provided via rail transport. If you send the wrong goods to a station, nobody will buy them, and you eat into your cash reserves just managing your assets. The trains don't run for free! You've got to maintain them, upgrade them, upgrade & maintain track, maintenance buildings, hotels, restaurants, etc.
If you like sim games, and if you like trains, you will LOVE this version of Railroad Tycoon!
Windows · by Kat_Girl (7) · 2004
Contribute
Are you familiar with this game? Help document and preserve this entry in video game history!