Air Raid
aka: Quintominoes, Race, Rover Robot
Moby ID: 79429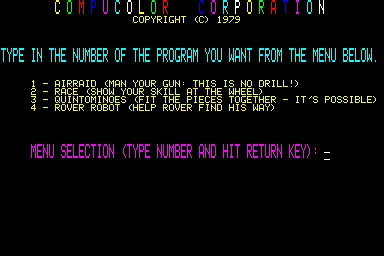 Released

Credits

Publishers
Moby Score

n/a

Collected By

1 players
Genre

Perspective

Visual

Pacing

Gameplay

Interface

Vehicular
Business Model

Media Type

Input Devices Supported

Multiplayer Options

Number of Players Supported

[ view all 6 specs ]
Description
Air Raid is a collection of four games.
The title game Air Raid is a shooting game where the player controls an anti aircraft gun. Above it a number of enemy aircrafts (about 75 in total) will move past and the player has to shoot down as many as possible. Aiming is done by raising and lowering the gun barrel and the bullets will fly in a trajectory until hitting an enemy or the ground. There are three kinds of planes: fighters, bombers and nuclear bombers each being worth a certain point value. Planes that manage to escape lead to points being decreased.

Race is a racing game for up to four players. The game is turn based and each player makes one move by pressing a number key in each turn. For example 5 maintains a steady speed while 9 increases the speed and steers to the right and 1 decreases the speed and steers to the left.

Quintominoes is a polyominoes puzzle game. The task is to place a number of shapes onto a grid. There are twelve pieces each made up of five squares and they have to be placed so that they all fit within the grid without any overlap. It can be played solo or in two different two player modes. In both the players take turns placing shapes but in the second mode the players their own sets of six shapes. An advanced mode also exist where one square on the grid is blacked out.

Rover Robot involves moving a robot over a 9x9 grid. The robot starts on the upper row and has to reach the bottom. Each square has a hidden go or stop sign and the robot is only allowed to move over go squares. The player can use four different commands: step (S) to move the robot to a square, check (C) to see the sign of a square, look (L) to see number of stop signs in current row and squares below and map (M) to show the signs of every square whose row the robot has passed. Check and map commands can only be used a limited number of times.
Contribute
Are you familiar with this game? Help document and preserve this entry in video game history!
Contributors to this Entry
Game added by Kabushi.
Game added June 24th, 2016. Last modified March 9th, 2023.