(prices updated 10/2 2:44 PM )
Supreme Warrior is a full-motion video fighting game. The game, or interactive movie, is set in China hundreds of years ago. You are tasked with protecting half of a magical mask. The wearer of the mask will be granted untold power. Unfortunately, the villainous Wang Tu has the other half of the mask and wants your half badly. So, you must fight off Wang Tu's minions, and eventually Fang Tu himself.
The gameplay in Supreme Warrior consists of digitized video with interactive elements. At many points during the video, you can unleash a punch, kick, or block. If your timing is correct, you inflict damage on your opponent. If your timing is off, your opponent hurts you.
Spellings
サプリーム・ウォリアー - Japanese spelling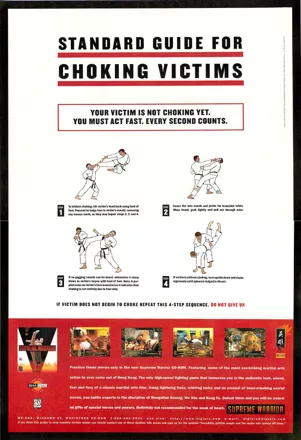 Credits (SEGA CD version)
109 People · View all
Executive Producers
Original Concept
Interactive Design
Music
Editing
Production Design
Director of Photography
Screenplay
Computer Programming
Produced by
Directed by
Associate Producer
Computer Graphics
Lead Tester
Package & Manual

The Design Office of Wong & Yeo

Character Biographies
[ full credits ]
Critics
Average score: 46% (based on 21 ratings)
Players
Average score: 3.0 out of 5 (based on 14 ratings with 0 reviews)
Be the first to review this game!
Trivia
Cancelled Saturn version
A SEGA Saturn version was in development, but was ultimately cancelled.
Film location
The video for Supreme Warrior was shot in Hong Kong at the Shaw Brothers' film studio, where many classic kung fu movies were made in the '70s and even reused a few of the same sets.
Game footage
Portions of the game footage were used in a made-for-TV movie called Maximum Surge, also released on DVD by York Entertainment under the name Game Over. The movie also used footage from Corpse Killer, Prize Fighter, and Quarterback Attack, all FMV games created by Digital Pictures.
Information also contributed byBig John WV and Foxhack
Contribute
Are you familiar with this game? Help document and preserve this entry in video game history!