Teenage Mutant Ninja Turtles III: The Manhattan Project
aka: TMNT 3, Teenage Mutant Ninja Turtles 2: The Manhattan Project
Moby ID: 8604
The Manhattan Project is a sequel to Mutant Ninja Turtles II. The third game in the series is very similar to the second one, being a Double Dragon-style brawler. The player selects one of the turtle protagonists who must then fight his way through the stages, taking out as many Foot Soldiers as possible, confronting and defeating the bosses, and finally facing Shredder. As opposed to the previous game, the turtle protagonists have each their unique powers.
Spellings
ティーンエージ ミュータント ニンジャ タートルズ 2 ザ マンハッタン プロジェクト - Japanese spelling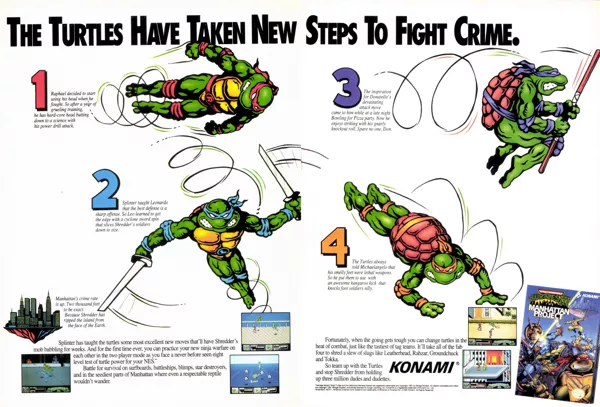 Credits (NES version)
15 People
| | |
| --- | --- |
| Programmed by | |
| Graphic designed by | |
| Sound designed by | |
| Visual designed by | |
| Directed by | |
| Presented by | |
Critics
Average score: 79% (based on 14 ratings)
Players
Average score: 4.2 out of 5 (based on 37 ratings with 1 reviews)
The Good
Teenage Mutant Ninja Turtles III: The Manhattan Project pushes the NES hardware to the limits (and then some) in terms of animation, graphics, music and sound effects.
Shredder has returned once again to kidnap April and, as an added bonus, Manhattan itself. Once again our green "heroes in a half shelf" must save the day!
Much like its predecessor, you control one of the famous ninja or "hero" (if you lived in Europe) turtles through several side-scrolling beat 'em levels that will remind you of Double Dragon, Final Fight or Streets of Rage.
Each level is loaded with familiar minions of the evil Shredder and, yes, familiar bosses are waiting for you at the end of each level. As an added bonus, each turtle has a special attack they can use, at the expense of their hit points.
Naturally, the two-player mode is especially fun to play. This time around you also get to decide, should you play with a friend, whether or not your weapons can hurt your friend.
Even if you were not a fan of the Teenage Mutant Ninja Turtles franchise (personally, I liked the original graphic novels better), this is still an incredibly well done and enjoyable video game for the NES.

The Bad
Its not a huge complaint, but Shredder has someone manage to kidnap, yet again, April O' Neil. As if saving Manhattan was not enough, the programmers decided to, once again, have standard "damsel in distress".
Triceratons do not appear in this game, even through they are front and center in the game's box art. Maybe this was a last minute decision, but I would rather had Triceratons then the two campy mutants from the live-action Teenage Mutant Ninja Turtles II film.
Much like the second game, Master Splinter is basically reduced to cameo, intermission sequences. I always thought it would have been cool to have been able to play Master Splinter in the game, but, alas, no secret characters were programmed into the 4 meg cartridge.

The Bottom Line
Teenage Mutant Ninja Turtles III: The Manhattan Project is one of the best hack n' slash/beat 'em video games released for the 8-bit Nintendo. The story and the game play will not win too many originality awards, but the game itself is still fun to play, even after all these years, and it is a well-needed reminder that video games based on popular cartoon or comic book characters do not have to disappoint.
NES · by ETJB (428) · 2013
Trivia
Title
The first TMNT game wasn't titled as such in Japan, instead the NES port of the arcade game (which was renumbered II in the west) got to keep it's title as the first in the series. So because there was already a TMNT 2 in the US, but not in Japan, it got numbered differently in the different regions.
Awards
EGM

1993 Buyer's Guide - Best NES Game of the Year
Related Sites +
Video review of NES accessories (WARNING: Laguage)
The Angry Video Game Nerd, James Rolfe, reviews some NES accessories and some associated games, including the Roll & Rocker and <i>Teenage Mutant Ninja Turtle III: The Manhattan Project</i> on NES.
Contribute
Are you familiar with this game? Help document and preserve this entry in video game history!