F/A-18 Interceptor
Moby ID: 8668
Description
F/A-18 Interceptor is a flight simulator in which you can fly either a F-16 Falcon or a F/A-18 Hornet jet. The game is set in the Bay Area; you can either just fly around, perform several maneuvers, or fly one of six missions that are set in the Cold War. In those missions, you have to protect the president's Air Force One, intercept enemy aircraft, rescue a downed pilot, and save the city of San Francisco from being blasted into oblivion by a nuclear cruise missile.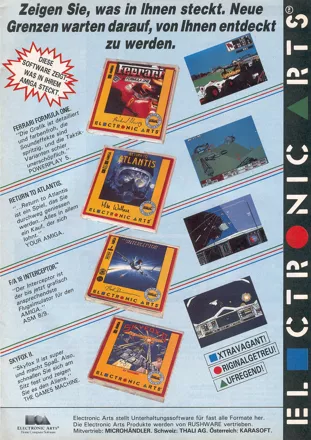 Credits (Amiga version)
9 People
| | |
| --- | --- |
| Designed by | |
| Programmed by | |
| Design Assistance | |
| Graphic Design | |
| Sounds by | |
| Music by | |
| Associate Producer | |
| Assistant Producer | |
| Technical Director | |
| Front Pack Illustrations | |
| Manual Illustrations | |
Critics
Average score: 84% (based on 19 ratings)
Players
Average score: 4.0 out of 5 (based on 24 ratings with 1 reviews)
One of the best Amiga Flight Sims

The Good
My first ever flight simulator game, it came with my Amiga 500, but wouldn't of been the first one I picked up (that was 'ikari warriors'! ). When I did start to play it I was hooked, attempting to fly under the golden gate bridge was always fun.
Very good pseudo 3D graphics for the Amiga.
A highly accessible flight simulator, not like many of the overly realistic sims around these days - it was very easy to get into.
If you like the more, arcade-like flight simulators then this one would be for you.

The Bad
A limited amount of missions, and enemies - most of the action takes place round the same sort of terrain

The Bottom Line
A Fun, pick up and play Flight simulator.
Amiga · by Ken0x (34) · 2005
Trivia
Sound
If you have more than 512KB RAM, you'll hear a tune by Dave Warhol over the title screen and menu. Without the extra memory, you're limited to the sound you hear during a mission briefing.
Awards
ACE

October 1988 (issue #13) - Included in the Top-100 list of 1987/1988 (editorial staff selection)

Amiga Power

May 1991 (Issue #00) - #62 in the "All Time Top 100 Amiga Games"

Computer and Video Games

Issue 06/1989 - Runner-up Golden Joystick Award 1989 for Best 16-Bit Simulation Game (reader's vote)* Computer Gaming World
November 1996 (15th anniversary issue) - #87 in the "150 Best Games of All Time" list
Information also contributed by PCGamer77
Contribute
Are you familiar with this game? Help document and preserve this entry in video game history!
Contributors to this Entry
Game added by EboMike.
Additional contributors: Patrick Bregger, Jo ST.
Game added March 28th, 2003. Last modified September 30th, 2023.