Q*bert
aka: Cubert, Gottlieb's Q*bert, Q*bert for Game Boy, Snots and Boogers
Q*bert is a popular arcade game. The goal is to change all of the tiles on a pyramid to the target color. To do this you guide Q*bert around the pyramid, and every tile he hops on will change color. On early levels, a single hop will change the tile to the desired color, but on later levels, you may need to hop on a tile multiple times or even avoid hopping on a tile multiple times! Trying to stop Q*bert are many different creatures wandering around the board, including Coily the snake, Slick and Sam, and falling balls. On the edge of the board are floating discs; if Q*bert jumps on one of these discs when the snake is in pursuit, the snake will fall off the board while Q*bert is safely transported to the top.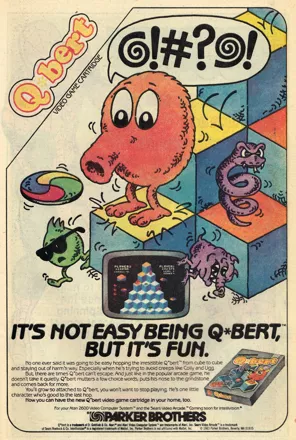 Credits (Arcade version)
4 People
| | |
| --- | --- |
| Designed by | |
| Programmed by | |
| Graphics by | |
| Audio by | |
| Cabinet illustration by | |
Trivia
1001 Video Games
The Arcade version of Q*Bert appears in the book 1001 Video Games You Must Play Before You Die by General Editor Tony Mott.
Board game adaption
In 1983 a board game adaptation of Q*bert was released, challenging one player to activate as many pyramid tiles as die rolls permit while a second player directs the movements of his antagonists.
Cancelled versions
A Famicom version of Q*Bert was announced, but cancelled.
Six months after release, Davis developed a update called Faster Harder More Challenging Q*bert which ramped up the difficulty because he felt the original became too easy. It was not released because it was seen as too similar and too near to the first version. Sometime in the 1990s he released for free through the MAME emulator.
References to the game
Q*bert is referenced in the Futurama episode Anthology of Interest II. The episode consists of three shorts; one of which involves Fry asking the "what-if" machine "what if life was more like a video game." Q*bert is one of the aliens that invades Earth. He comes out of one of the Invaders.
Q*bert is referenced in a flashback in a Family Guy episode. Stewie first says that a certain incident was worse than being Q*bert's roommate, where it then cuts to Stewie laying in the middle of the pyramid asleep with Q*bert jumping down turning on the tiles. Stewie then wakes up and says "It's all night with the lights, listen if you're gonna keep this up I'm not splitting the electric bill".
A Q*bert arcade machine is seen in Ghostbusters: The Video Game on the second floor of the firehouse. Sadly, the game is not playable.
TV Cartoon
Q*Bert was popular enough to have a Saturday morning TV cartoon based on it in the early 1980's.
Information also contributed by Big John WV,gamewarrior,Marguerite Richardson, and Pseudo_Intellectual
Related Sites +
History of Q*Bert
Jeff Lee recalls the process of how Q*Bert came about.
Q*Bert Manual
The manual for the Atari 5200 is reproduced here.
Q*bert
A good article about the original Q*bert arcade game and its various system ports
Contribute
Know about this game? Add your expertise to help preserve this entry in video game history!
Contributors to this Entry
Game added by Servo.
TI-99/4A added by Corn Popper. Game Boy added by Kartanym. Dedicated handheld added by OmegaPC777. PlayStation 3 added by A.J. Maciejewski. BlackBerry added by Sciere. DOS added by jeff leyda. J2ME, SG-1000, Mophun added by Kabushi. Atari 8-bit added by ZZip. Arcade added by Pseudo_Intellectual. Odyssey 2 added by Psionic.
Additional contributors: Kartanym, Jeanne, Guy Chapman, Pseudo_Intellectual, Игги Друге, formercontrib, Patrick Bregger, FatherJack.
Game added April 11th, 2003. Last modified April 27th, 2023.