See Also
Flood (2015 on Windows, Browser)
Description
Flood is a side-scrolling platformer in which the player takes control of Quiffy, a strange amphibious creature, on his quest to stop the flooding of his underground world. The gameplay is familiar (it is a platformer afterall), but there are some novel ideas, such as Quiffy's ability to cling to walls and ceilings.
During his travel to the planet surface, Quiffy will meet three kinds of menace. The first is the monsters, of course, as in any platformer. The two others are a bit more original: as the game's title implies, water will progressively flood the levels, endagering Quiffy - which, by the way, isn't amphibious. There is also a ghost which happens to be the spirit of Quiffy's late aunt (!) and which will chase him by reproducing every move he made a dozen of seconds later.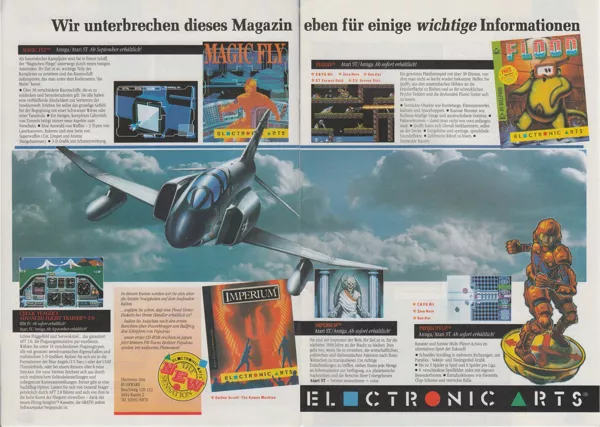 Credits (Amiga version)
11 People
| | |
| --- | --- |
| Programmed by | |
| Technical Programming by | |
| Designed by (in order of importance) | |
| Graphics by | |
| Level design by | |
| Sound by | |
| Cars wrecked by | |
| Cover artwork by | |
Critics
Average score: 81% (based on 16 ratings)
Players
Average score: 3.8 out of 5 (based on 19 ratings with 2 reviews)
The Good
The game is very clever, you run around collecting trash while water fills a two dimensional cave, drowning you if you take too long. You can run along the walls and the roof in certain parts.
There are monsters that you can kill with various weapons and recharge points. You get passwords for further levels.
The game is beautifully balanced, you can feel your skill increase. The game is also has a wonderful look to it.
The sound is also very appropriate.

The Bad
There are a few levels that are too hard, one in particular toward the end appears to be impossible but there are cheat codes out on the net to get past it. Ideally the game would also be a little longer.

The Bottom Line
This is a cute, clever and fun game that was very well paced. The combination of puzzles and action worked brilliantly. Still a very enjoyable game.
Amiga · by Petrov Sienkowskery (3) · 2009
The Good
Very original as I said, some nightmarish ingredients such as teddy bears with mouths in their bellies.

The Bad
It's a bit too hard, some bugs in level design makes monsters stuck and become impossible to get past.

The Bottom Line
Very original platform game with a tragic ending. Do not read the following if you do not want to know: (When the game is completed the main character climbs up through a manhole and gets instantly run over by a car.)
Atari ST · by J Socha (15) · 2003
Trivia
Development
Flood was originally developed to support four separate players, each with their own camera which could be toggled onto the main screen. The mechanism didn't function particularly well, however, and Flood was completely re-designed as a "cutesy platformer". By that time the development team had grown attached to the four-player design concept, and so it was revived in Bullfrog's later title, Syndicate
ST Version bug
Initial copies of the ST version crashed on the very earliest machines with TOS from 1985 if the player fails to reach the High Score table. When this issue was raised by a letter to ST Format magazine, Electronic Arts explained that this went unnoticed as none of their playtesters failed to achieve a high score. Replacement copies were issued within a few months
Awards
Amiga Power

May 1991 (issue #00) - #77 in the "All Time Top 100 Amiga Games"

ST Format

Issue 01/1991: #3 Best Platform Game in 1990 (Atari ST)
Issue 01/1993: #49 in '50 finest Atari ST games of all time' list.
Contribute
Are you familiar with this game? Help document and preserve this entry in video game history!