The second rally racer from Kemco on the N64 provides a vastly different style of rally racing to the original Top Gear Rally.
Along with the new option to join a rally racing team, who supports you through-out each championship cup you take part in. Money raised by each vistory or top place in the cups goes towards improving your car, or reparing any problems. If you take a wrong turn and damage a part of your car (which can be anything from tyres to a full engine), the repairs come out of your pocket, so driving carefully is important. New sponsership deals and bigger team call ups will also come into play the better you race, allowing the chance to drive the more powerful rally cars and play for big money.
Much like the real rally championship, you don't race against other cars in the cups. Instead, you must race the clock. Whoever clocks the best time for each stage will win the points and move on to the next stage and the bigger cup challenges.
You can also take part in the usual arcade rally style against 4 other cars, with the first to get to the finish taking the points. 2 players can play as part of one team during a championship campaign, as well up to four players split screen in the arcade mode.
Spellings
トップギア・ラリー2 - Japanese spelling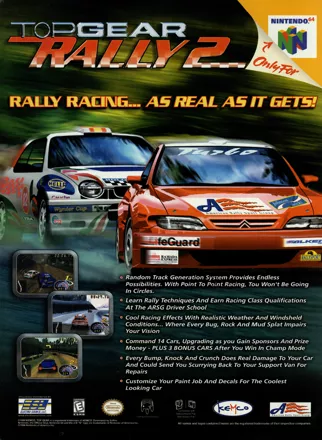 Credits (Nintendo 64 version)
88 People (55 developers, 33 thanks) · View all
Game Designer
Game Director
Executive Producer
Special Thanks
Operations Manager
Project Lead
Programming Lead
Programming
Additional Programming
[ full credits ]
Critics
Average score: 73% (based on 9 ratings)
Players
Average score: 3.5 out of 5 (based on 5 ratings with 0 reviews)
Be the first to review this game!
Contribute
Are you familiar with this game? Help document and preserve this entry in video game history!