The Lawnmower Man
aka: Der Rasenmäher-Mann
Based on the 1992 feature film, The Lawnmower Man is a collection of minigames based on the revolutionary virtual reality sequences seen in the movie. The plot parallels the central conflict - the player controls Dr. Angelo (Pierce Brosnan) as he heads into cyberspace to confront the psychotic digital god Jobe (Jeff Fahey) he has created.
As the ruler of his digital domain, Jobe shifts and manipulates the virtual world into a series of challenges to test the player. These range from digital IQ tests, chase sequences requiring precision timing for jumping and ducking, and a tunnel flight as one of the virtual jets from the movie. Characters from the movie are also digitized by Jobe into willing henchmen, and must be defeated by the player in a series of quick time events.
All of the sequences are pre-rendered and streamed off the disc as movie files. Despite the computer-generated visuals, the game itself technically functions like an interactive movie (i.e. the graphics are not being drawn by the player's computer in real-time). Therefore, all the limitations of an interactive movie are still in play. Controls are extremely basic for each minigame, and failing to hit the right button at the right time generally switches to a lengthy "game over" video with no branching paths.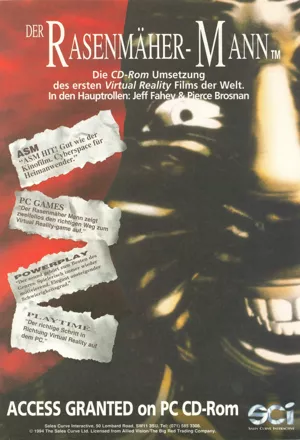 Credits (DOS version)
38 People (27 developers, 11 thanks) · View all
Production
Executive Producer
Director
Writing / Dialogue / Story
Music
Graphics / Artwork
Soundtrack "The Entity"
Programming
German Voiceover
Playtesting
Design
Development System
Production Director
Marketing
PR
[ full credits ]
Critics
Average score: 60% (based on 17 ratings)
Players
Average score: 2.4 out of 5 (based on 11 ratings with 1 reviews)
One of the most insanely horrible games ever made.

The Good
To understand why anyone might have ever thought that there was something good in The Lawnmower Man, one must teleport their mind back to 1993, when the game came out. It must be remembered that in this time, "multimedia" was actually a new buzzword that created the same kind of excitement that "Internet" might have created just a few years later. The whole idea of being able to play movies (even tiny movies which lasted a few minutes or even seconds) on your computer screen seemed like an impossible dream come true. In those days, The Lawnmower Man was something special, because in the spirit of those pioneering multimedia days, it entirely ditched any semblance of a computer game interface, preferring instead to simply use what looked like full-motion video for the entire game. Rather than any on-screen cursors or buttons appearing, you simply saw what must have looked like pretty decent full-screen video in those days. (Even though it's really just rendered polygon graphics for the most part.) Your character would respond to keypresses and the movie would evolve as appropriate, changing here and there as you continued to influence it. It was (and remains today) a little-used gameplay style. Whether that's good or bad, however, may be a matter of opinion. Even so, the graphics and sound effects were passable, at least.

The Bad
The Lawnmower Man has virtually no plot development whatsoever. If you haven't seen the fairly decent movie which this game was based on, you won't have any idea of the background story. Of course nobody cares too much about the story when you actually have one in a game, but it's somehow a slap in the face when you get a game which doesn't have a story; It makes the game seem somehow pointless, since you're not sure if you're trying to save the world or just in a hurry to get to dinner on time.
Indeed, The Lawnmower Man is very little more than a few arcade sequences which are completely scripted and exactly the same each time. There seems to be little point to them other than to watch yourself move through the virtual reality world and gawk at all the nice scenery. Again, the sheer attractiveness of the graphics (by 1993 standards) made the game appealing to people who would buy technology simply for technology's sake, whether they needed it or not. Well, I feel sorry for those people, because The Lawnmower Man is not fun for even one single second. The game begins with you running from some kind of cosmic giant lawnmower that's trying to run you down; As you run, you have to jump over (or duck under) some weird ghoulie ball-shaped objects that are trying to swallow you up. Not only is this sequence ridiculously difficult, there's no such thing as saving your game in this game; You just have to do it right all in one shot, and if you don't, then you have to start at the beginning of the level. The Lawnmower Man was clearly influence by coin-op arcade games, and they decided to make it really tough for the hardcore gamers who want a serious challenge from their games. But even hardcore gamers will not find anything in this game to like. I myself never made it past the first sequence. It was too hard, and every time one of the ball-monsters hit me, I had to start from the beginning. I don't mean to complain too much about computer games being too hard for me, but The Lawnmower Man crosses way over the line from "challenging" to "unplayable".
It's a shame, because the movie was actually watchable. If you ever come across The Lawnmower Man game and you're a collector, you may want to grab it (since it will never sell anywhere for more than a few dollars) just to satisfy some mild curiosity, but the game does not even begin to be an actual game that you'd want to sit down and play.

The Bottom Line
Watch the movie instead.
DOS · by Adam Luoranen (92) · 2003
Trivia
Releases
The Lawnmower Man was originally released as a single CD, 32-color game. The game was mostly rendered in 'draft' mode, having ragged edges on all the 3D models. The full 256-color, 2 CD version was later released featuring movie clips from the movie running in-game on boards floating around the levels.
The reason they released the first version with 32-color graphics: the development team thought that a 1x-speed CD-ROM wouldn't load fast enough if the files would be larger. What they overlooked was that at the time of release, there were nearly no single-speed drives anymore.
SEGA CD version
The PAL version of the Mega-CD release had the wrong country code, and would not play in European consoles. Unsold versions were quickly recalled, and the game eventually became one of the rarest Mega CD titles that were released at some point.
Awards
Computer Gaming World

November 1996 (15th anniversary issue) – #42 Worst Game of All Time

PC Player (Germany)

Issue 01/1995 - Worst Programming in 1994
Information also contributed by Luis Silva, Macintrash and [phlux](http://www.mobygames.com/user/sheet/userSheetId,9660/)
Contribute
Are you familiar with this game? Help document and preserve this entry in video game history!