Command & Conquer
aka: Command & Conquer: Teil 1 - Der Tiberiumkonflikt
Moby ID: 89866
The PlayStation port of Command & Conquer has the same gameplay and storyline as the DOS original, with an adapted sidebar similar to the one from the SEGA Saturn port. Exclusive to this version are six Special Operations missions (three for GDI, two for Nod, one hidden) which are different to the missions of the same name from the later Nintendo 64 port. Using a code, missions from The Covert Operations expansion pack for the DOS original are also accessible.
Spellings
コマンド & コンカー コンプリート - Japanese spelling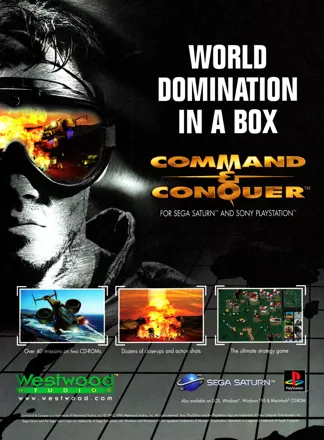 Credits (PlayStation version)
42 People · View all
Original Concept
Producer
Technical Director
Associate Producer
Programmers
Designer
Lead Artist
Artists
Screenplay
Audio Direction
Soundtrack
Sound Effects
QA Direction
Lead Quality Assurance
Quality Assurance Team
[ full credits ]
Critics
Average score: 82% (based on 16 ratings)
Players
Average score: 3.7 out of 5 (based on 37 ratings with 1 reviews)
The Good
Well as most gamers know, this was the game that kick-started the whole Real Time Strategy genre and even after all those years since it was released Command And Conquer is still one of the best games out there. The gameplay is simple and the missions are challenging to any player. Plus the Playstation version has loads of missions than the PC version, not only does it have the missions from the "Covert Operations" mission disk, it also has some "Special Ops" missions that not even the PC, N64 or even the Sega Saturn versions have

The Bad
Some of the missions are quite hard and sometimes overwhelming (believe me, having to keep your base defended from constant attacks in some missions can really be overwhelming!)

The Bottom Line
This is one the best games you can get, very highly recommended
PlayStation · by Grant McLellan (584) · 2001
Contribute
Are you familiar with this game? Help document and preserve this entry in video game history!