Dragon Ball Z: Budokai
aka: Dragon Ball Z
Moby ID: 8988
Budokai is based on the TV action animated series Dragonball Z. The story begins after Goku defeats Piccolo at the World Martial Arts Tournament and he comes to visit Master Roshi, when all of a sudden, his brother Raditz appears and kidnaps his son, Gohan. After he saves him, he is sent to Other World to train with King Kai for two more powerful Saiyan arriving one year later. This wild ride story takes the player from the Saiyan to the Cell Games Saga.
There are also several options in the game: there is a world tournament mode where the player may buy new moves and a practice mode where to sharpen skills before entering story mode. The player may also summon Shenron after collecting all 7 Dragonballs.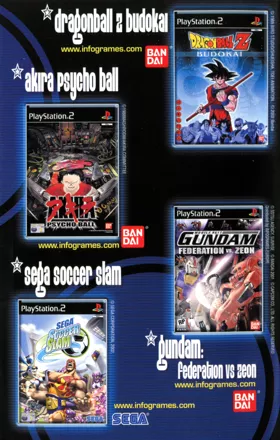 Credits (PlayStation 2 version)
234 People (204 developers, 30 thanks) · View all
Critics
Average score: 71% (based on 30 ratings)
Players
Average score: 3.4 out of 5 (based on 20 ratings with 2 reviews)
Fights, Fights, and more fights!!!

The Good
1. Good graphics. 2. Voice actors on the show are in the game. 3. Your character can be boosted by the eternal dragon. 4. Plenty of pre-fight trash talk. 5. With the right skill you can become Cyber-Frieza. 6. Mr. Satan Mini-Game.

The Bad
1. Holes in the story line. 2. Cell's voice doesn't change. (except when he does the spirit bomb) 3. Cell has the only blue Kamehameha Wave. (The others are yellow) 4. It takes forever to regain the Dragon Balls.

The Bottom Line
Fun IF AND ONLY IF you are a Dragon Ball Z fan otherwise don't even bother. There are over 60 combos for each character meaning a whole lot of hurt for the enemy Mua ha ha ha >:).
PlayStation 2 · by Cody Robinson (3) · 2003
The Good
The way it followed the storyline and made it look like the game was the T.V. series with the episode titles. The voices, opening narration makes everything look like an episode of DBZ. Plus the alternate storyline (Hidden Episodes) were cool. Like Vegeta turning Super Saiyan just when Yajirobe is about to kill him.

The Bad
Sometimes the graphics are a little bad. Especially the Saiyan's tails. Everything they've spoken in the series is changed in the game. Some fights can be tough like Gohan vs. Cell.

The Bottom Line
It's a great game.
PlayStation 2 · by Rey Mysterio (23) · 2004
Contribute
Are you familiar with this game? Help document and preserve this entry in video game history!
Contributors to this Entry
Game added by Exodia85.
Additional contributors: Evil Ryu, Patrick Bregger.
Game added May 17th, 2003. Last modified May 7th, 2023.