Klonoa
aka: Kaze no Klonoa: Door to Phantomile
Moby ID: 90885
Official Description
Klonoa, the critically acclaimed franchise that revolutionized the action platform genre, finally makes its way onto the Wii. It follows the story of Klonoa and his ring spirit friend, Hewpoe, as they set off to investigate a mysterious crash near their home in Phantomile, a world created by everyone's dreams. The pair soon find themselves embarking on an exciting adventure filled with magical creatures and evil villains. With his trusty friend Hewpoe at his side and the power of the Wind Bullet in his hands, it's up to Klonoa to save Phantomile!
Features
• Unique Character and Level Designs – Cute, and quirky characters and beautifully detailed environments
• Enhanced Graphics – Gorgeous, vibrant, and completely redesigned graphics optimized for the Wii
• Fun and Challenging Gameplay Experience – Dozens of different enemies to beat in 14 adventure-filled levels
• Exclusive Reverse Mode – With bonus stages created especially for the Wii version of the game
• Multiple Controller Options – Players can choose whichever style suits them best, from the Wii Remote and Nunchuk, Wii Remote only, Classic Controller, or even the GameCube controller
• New Controls Utilize the Wii's Motion Sensing Capabilities
• Use the Wind Bullet to capture enemies and toss them by swinging the Wii Remote
• Shake the nunchuk to activate a whirlwind that will spin and slow down enemies
Source: Nintendo.com Description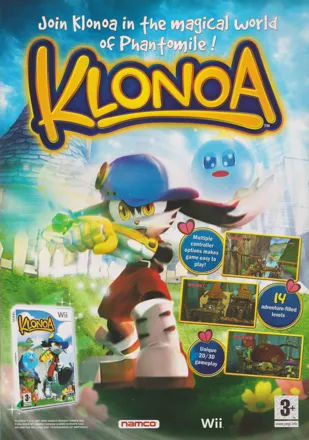 Credits (Wii version)
170 People (143 developers, 27 thanks) · View all
Klonoa
Klonoa - Phantomile Ver.
Hewpoe
Huwpoe - Phantomile Ver.
Balue
Balue - Phantomile Ver.
Ghadius
Ghadius - Phantomile Ver.
Joker
Joker - Phantomile Ver.
Grandpa
Grandpa - Phantomile Ver.
Karal
Karal - Phantomile Ver.
King Seadoph
King Seadoph - Phantomile Ver.
Chieftess
Chieftess - Phantomile Ver.
Pamela
Pamela - Phantomile Ver.
Solare
Solare - Phantomile Ver.
Soleil
Soleil - Phantomile Ver.
Moire
[ full credits ]
Critics
Average score: 79% (based on 18 ratings)
Players
Average score: 3.2 out of 5 (based on 8 ratings with 1 reviews)
The Good
Visually, Klonoa is as appealing as Braid AND everything is 3D. The controls are so minimalist that you only have the D-Pad (four buttons) and three buttons (one of them is the Menu button, so you really only have two). Using so few buttons in a fully 3D game is unheard of.
Controls are quite responsive. It's one of the few, FEW Wii games that allows you to skip the intro (the logos of each company/team that makes the game, ever wanna skip one of those?). Also, when you beat a boss, big shiny text will appear immediately to inform you that you killed him. I really want to stress "immediately", and it almost seems like it happens before you even complete the final strike.
Controls are quite responsive (Pt. II). Now, because it uses such a simple control scheme, it has none of the camera angle/motion sensor problems that Wii games would normally have. You'll never lose the "cursor" on your screen because there is no cursor and no use of motion sensor technology at all. If one day your sensor bar should break or go missing, most other games would be unplayable but this game would work just the same.

The Bad
Leap of Faith is the fourth level in Braid and the last one in World 2. In Braid you can just jump around and see what happens and never worry about dying. You'll want to do the same here.
Because, if there is a lot of colorful stuff on your game screen, your natural instinct would be to explore them. Try to interact with each one of them. This works fine in the early levels of Klonoa. However, starting with Vision 4 (which means Level 4 in this game) you'll realize that you had better play it safe: Try not to explore anything. Don't go anywhere unless you absolutely must. What happens if you do explore though? You die. Yeah, so this game effectively discourages exploration.
That's not all. In later levels, you'll die just by trying to figure out the necessary path to the end of the level. It becomes more and more like Mario games with their punishing difficulty. Bosses become more and more like Mario world bosses: they can touch you, you can't touch them.

The Bottom Line
Above average platformer. Great-looking. Controls are as simple as it gets, pick up and play immediately. Expect the need of a (video) walkthrough.
Wii · by Pagen HD (145) · 2013
Contribute
Are you familiar with this game? Help document and preserve this entry in video game history!