Sonic Mega Collection
Moby ID: 9215
A complete compilation of 7 classic Genesis Sonic the Hedgehog title.* Sonic the Hedgehog: Sonic's first ever outing had you controlling the speedy blue hedgehog through level after level of loops, spins, traps and enemies, as you take on Dr. Robotnik.
Also on the disc is the complete history of Sonic and his world, a full magazine from the Sonic comic book series, cover art, and hidden games. These include the secret games "Knuckles in Sonic 2" and the "Blue Sphere" hidden levels, as well as the Genesis games Flicky and Ristar. The Japanese version also has the Genesis (MegaDrive) games The Ooze and Comix Zone that the other region releases do not have.
Spellings
ソニック メガコレクション - Japanese spelling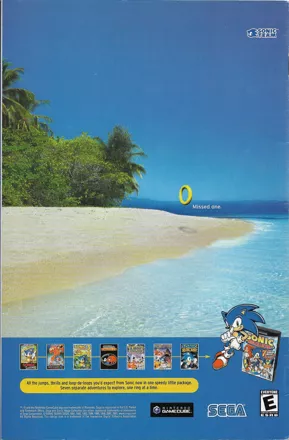 Credits (GameCube version)
112 People (95 developers, 17 thanks) · View all
Producer
Director
Illustration
Graphic Design
Special Thanks
Director
Programmer
Technical Programmer
Graphic Design
Special Thanks
Sales Promotion
Product Producer
International Business & Product Development
Design Production Team
[ full credits ]
Critics
Average score: 77% (based on 25 ratings)
Players
Average score: 3.9 out of 5 (based on 39 ratings with 3 reviews)
I was strolling down memory lane one day....

The Good
Sonic, Sonic, and more Sonic! I grew up playing Sonic 2 all day. Some of the games I never played before like Sonic 3D Blast I fell in love with due to collecting animals instead of the most rings. Also, I love it they add hidden games to play along with the 7 games already accessible. Next up, the rest of the GameCube and GBA games.

The Bad
Nothing. Nothing dissatisfied me because I am a true old school Sonic and will always will be.

The Bottom Line
If your a Sonic fan and don't have a GameCube, get one! They're only $99.99 now! So, you should have no excuses!
GameCube · by Exodia85 (2147) · 2004
A great trip down memory lane, albeit with a lack of extras, an incomplete selection of games, and an INSANE lockout system.

The Good
You know of the first four Sonic games already - good platformers. These are presented in mostly their original form, with the exception of a few graphical modifications. These do not affect the overall experience and die-hard fans should not be put off. Sonic Spinball is a slightly mediocre game - imagine the pinball areas in the Casino Night levels of Sonic 2, with the difficulty upped and the gameplay quality lowered - this one's an acquired taste. Mean Bean Machine is excellent - this is just Puyo Puyo with a Western twist and the Sonic license slapped on to make it sell. Flicky may be off-putting due to the dated graphics (I'm not kidding) but is an addictive game. Ristar is the best game on the disc, but you probably didn't know that this was there. Do you know why? Because in Sega's infinite wisdom, the company has chosen to lock it out until you start every other game 50 times. Personally I think that the people putting the disc together thought they were funny. One HUGE scar on the surface of this pretty little optical disc - NO SONIC CD: the best Sonic game ever has been sadly not included in the compilation due to hardware emulation difficulties (the game was on the Sega CD system). Knuckles' Chaotix (32x) is also missing, and while I miss it I don't see this as a huge problem.
Visually, the games still look great. Of course they have technically aged, with the possible exception of Ristar - it's use of the Genesis hardware and it's extreme colorfulness make it too hard to criticize. (Make sure you're using the RGB cable, or if you live in North America, the next best thing, S-Video - or Component if you can afford it!)
The audio's also hard to fault. Some of the menu songs on Spinball are so grating you'll wanna put your TV on mute. But the catchy songs of the other games (Chemical Plant in Sonic 2, anyone? Starlight Zone in the original?) are still good after all those years.
Along with these classic games, Sonic Mega Collection has some extras up its sleeve. Remember the lovely Sonic CD anime intro? Well you probably would, if that game was on this disc. On the Sega CD the frame rate was poor, the video size was tiny, and the colors were nasty. But, it was a stunning intro. The PC version of Sonic CD let fans see the intro in it's proper colors. Squashed into a tiny window and badly resized (read: pixelly!) Sonic Jam came closer, but Sonic Mega Collection finally lets us see the intro (and ending sequence) in broadcast quality, full screen, full speed. The sequence was animated by Toei Animation, who I believe are also to blame for "Digimon", and is stunning. This version has the American music "Sonic, you can do anything" dubbed over the original Japanese rap song, but in all honesty I prefer the American version.

The Bad
A graphical smoothing option on the emulator would have been nice, like is available on PC emulators.
The rest of the movies are cop-outs. Rather than giving us the selection of TV commercials on Sonic Jam, Sega have decided to give us advertisements for current and upcoming games. Oh, and a really bad "History of Sonic" video, nowhere near as good as Sonic Jam's museum section. There are also lots of comic cover scans, some of which are nice, but because these are the American Archie comics, some are painful also.

The Bottom Line
Sonic Mega Collection is worth picking up, considering how many titles you're getting on one disc. The fact that Sonic CD isn't included is a huge kick in the stones, but considering Ristar is here (albeit in a nearly impossible to unlock form), as well as other classic Sonic games, movies and illustrations, it's hard not to recommend.
GameCube · by David Mackenzie (47) · 2003
Sonic and friends are gonna make you love the Mega Drive Again

The Good
This is a nice disc that has all the 7 original Sonic games, movies like the beginning and ending of Sonic CD, Sonic Adventure 2 Battle video, Sonic Advance 2 video and a History Of Sonic video from 1991-2002. The History Of Sonic video has scenes from Sonic 1, Sonic 2, Sonic 3, Sonic And Knuckles, Sonic Jam and Sonic Adventure. This is good if you didn't have a Mega Drive like me, I had a SNES. this is a good disc. Old sounds, gameplay but good fun.

The Bad
The only bad thing is that you can only save on Sonic 3.

The Bottom Line
Old classics on one disc, get it even if you have these on Mega Drive, store the cartridges away and make them add up in value.
GameCube · by knuckles-rox (8) · 2005
Trivia
There were rumors that Sonic CD was going to be included as well. But some issues with emulation of it prevented it from being included
Contribute
Are you familiar with this game? Help document and preserve this entry in video game history!