Dynasty Warriors 8: Empires - Old Costume Pack 4
Moby ID: 92583
Official Description
The "DYNASTY WARRIORS 6" costumes for all 46 playable characters who appeared in that title will become available for selection under CHANGE OUTFIT.
This set features costumes for the following characters:
Xiahou Dun, Dian Wei, Sima Yi, Zhang Liao, Cao Cao, Zhou Yu, Lu Xun, Sun Shangxiang, Gan Ning, Sun Jian, Zhao Yun, Guan Yu, Zhang Fei, Zhuge Liang, Liu Bei, Diaochan, Lu Bu, Xu Zhu, Xiahou Yuan, Xu Huang, Zhang He, Cao Ren, Cao Pi, Taishi Ci, Lu Meng, Huang Gai, Zhou Tai, Ling Tong, Sun Ce, Sun Quan, Ma Chao, Huang Zhong, Wei Yan, Guan Ping, Pang Tong, Dong Zhuo, Yuan Shao, Zhang Jiao, Zhenji, Xiaoqiao, Yueying, Meng Huo, Daqiao, Jiang Wei, Xingcai, Zhurong.
* The images are from an in-development build and may differ from the final version.
Source: Steam Store Description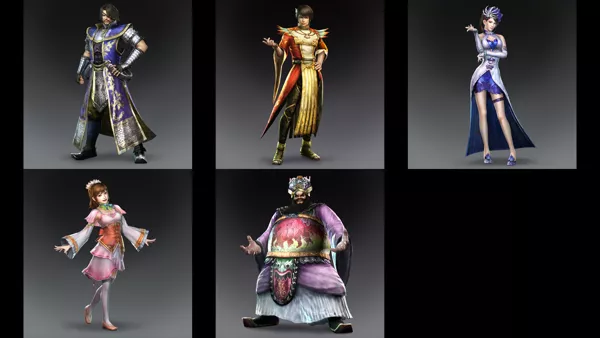 Contribute
Are you familiar with this game? Help document and preserve this entry in video game history!
Contributors to this Entry
Game added by Charly2.0.
Game added July 16th, 2017. Last modified February 1st, 2018.