Wakeboarding Unleashed featuring Shaun Murray
aka: Shaun Murray's Pro Wakeboarder, Wakeboarding
(prices updated 9/24 6:13 PM )
Wakeboarding is part of Activision's line of Extreme Sports titles. A rider (using a board that's like a combination of a surf board, body board and skateboard) is pulled along the water by rope at high speeds by the boat up front, and must pull of tricks either by jumping of jumps or using the wake left by the boat itself (hence the sport's name).
Unleashed takes this sport and turns it upside down, allowing you to fly down water ways through well known locations around the world, pulling stunts off buildings or cliff faces. Other objectives are included that have you completing tasks and busting tricks in a unique way.
Multiplayer modes include one-on-one trick attack and horse, where both players compete against each other to pull off the best tricks. Co-operative mode has one player driving the boat while the other hangs on behind, with new challenges for the boat driver to complete as well as the rider.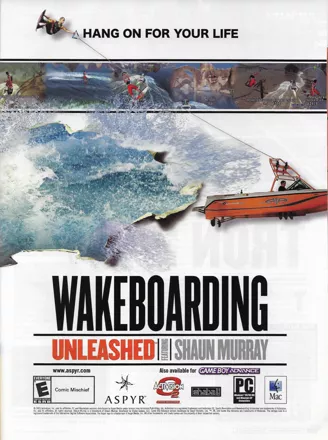 Credits (Windows version)
207 People (133 developers, 74 thanks) · View all
Critics
Average score: 80% (based on 23 ratings)
Players
Average score: 4.5 out of 5 (based on 6 ratings with 0 reviews)
Be the first to review this game!
Related Sites +
New Thrills and Spills
An Apple Games article about the Macintosh version of <em>Wakeboarding Unleashed</em> (January, 2004).
Contribute
Are you familiar with this game? Help document and preserve this entry in video game history!
Contributors to this Entry
Game added by Kartanym.
Macintosh, PlayStation 2, Windows added by Corn Popper.
Additional contributors: tarmo888, Zeppin.
Game added June 12th, 2003. Last modified April 25th, 2023.