A text adventure game set in HP Lovecraft themes in 1920's.
The game's character generation routine was unusual. It was an ambitious project that was meant to carry over to a game series called "Timeline" which never happened. You had to guide the character's career through WWI, professions, as he or she gets skill points to distribute. Not many games had skills at all, let alone the plethora of skills to choose from in this game.
The text part of the game is a supernatural thriller where you have to escape the curse of the Hound of Shadow in 1920's London. It opens with a friend taking you to a seance to debunk. Strange things happen and you discover that you are under a curse. You research history and lore in musty bookstores, and the London Library to gather information about the Hound. As you play, you are likely to learn about mythology, and the occult, too.
There is a time limit, though, the Hound will get you eventually if you don't get on the ball.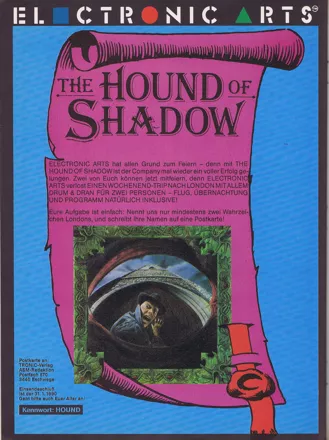 Credits (DOS version)
5 People (4 developers, 1 thanks)
| | |
| --- | --- |
| Artists | |
| Loosely based on the works of | |
Critics
Average score: 76% (based on 13 ratings)
Players
Average score: 2.6 out of 5 (based on 9 ratings with 0 reviews)
Be the first to review this game!
Trivia
Legacy
They tried again 1992 with similar ideas in Daughter of Serpents. This game had similar character generation (which by then the idea of skill points was not new anymore).
Manual
The manual gives a bio of HP Lovecraft as well as the game designers Chris Elliott and Richard Edwards. Richard use to work in an English Psychological hospital where he became allergic to bureaucracy and is quoted as saying that computing is an occult art rather than a science. The acknowledgements include the staff of the British Library Reading Room and Oriental Reading room who apparently helped out with the project.
References
The successful player will find snippets of classic horror works throughout the game.
Awards
ST Format

January 1990 (Issue #06) - Included in the list 50 Games of the Year
Contribute
Are you familiar with this game? Help document and preserve this entry in video game history!