Paradroid 90
aka: Paradroid 2000
Moby ID: 9488
Description
Paradroid 90 is a remake of the game Paradroid (released in 1985 for the Commodore 64) for slightly later systems.
A fleet of space freighters carry a cargo of battle and security robots to help in the defence of Basmyth. Alien ships were bombarding the freighters with disorienting beams which drove the robots crazy. The human officers were eliminated, leaving the ships open for occupation by alien forces. At this point, the player's mission starts...
You control a cybernetic influence device (ID) which has been teleported aboard the first freighter to eliminate all the droids and robots. Two ways are possible to clean the ship decks representing the action part and the more strategic part of the game: Shooting (action) to destroy the robots or connecting itself into another robot's brain (strategy) to temporarily take control of it.
It's possible to play the game as a simple shoot-em-up game, but the main part of Paradroid 90 is the transfer game to take control of other droids.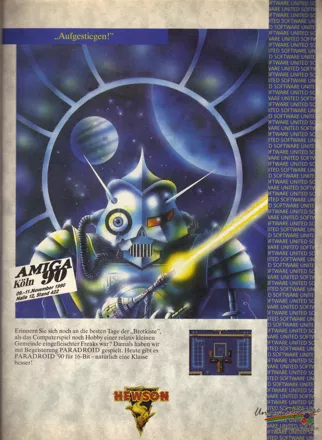 Credits (Amiga version)
7 People
| | |
| --- | --- |
| Game design | |
| 68000 Game System | |
| O.O.P.S. Kernel | |
| Graphics | |
| Music and Sound | |
| Cover Artwork | |
Critics
Average score: 82% (based on 12 ratings)
Players
Average score: 3.7 out of 5 (based on 14 ratings with 0 reviews)
Be the first to review this game!
Trivia
Cancelled TurboGrafx version
A version for the TurboGrafx / PC Engine console was also in development. When Hewson went bankrupt NEC attempted to recall the development kit, believing that the game was being developed in-house. Graftgold attempted to receive clearance from Hewson to release the conversion independently of them, but this was not granted in time for the game to be released. Steve Turner commented years later that "Although I felt sorry for Hewson I was bitter that a simple letter may have let us get our reward for all the work we had done". On a similar note, in a 1992 interview with Amiga Power magazine, Graftgold's Andrew Braybrook declared that their "choice of publisher was a real duffer. We got terrible artwork, terrible publicity and no royalties".
Awards
Amiga Power

May 1991 (Issue #00) - #22 in the "All Time Top 100 Amiga Games"
Contribute
Are you familiar with this game? Help document and preserve this entry in video game history!